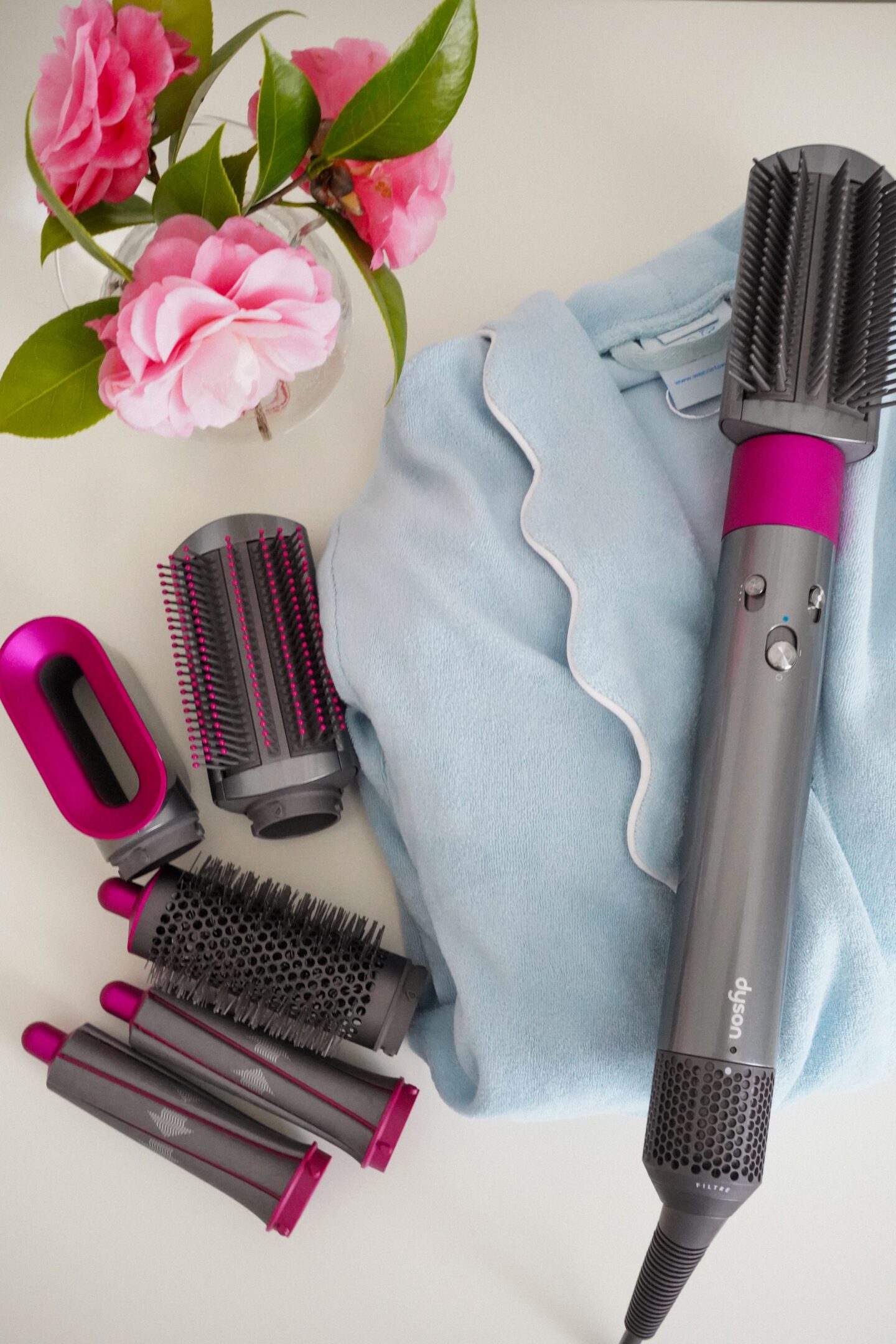 I've had my Dyson Airwrap Styler for about 1.5 years now, and am just getting around to sharing about it! The Airwrap is not a new tool – it's been available for some time now. You may have heard mixed reviews on it… in researching prior to purchasing, I read some really great things about this tool and also some not-so-great things (mainly, that it's difficult to justify the cost). This product is definitely an investment, and I know I personally love reading product reviews before making big purchases, so I wanted to share my experience and weigh in with my opinion on this hair tool!
The newest version of the Air Wrap Styler comes with 6 attachments: a smoothing blow dryer, two curling barrel attachments, a firm smoothing brush, a soft smoothing brush, and a round barrel brush. (Note that my version shown above is slightly different!)

I will start by saying that I initially purchased the Airwrap mainly for the curling aspect, and that's the only thing I used it for the first year or so. While it does do a great job for this, I rarely use it to curl my hair any longer, and am now primarily using it to blow dry and straighten/smooth my hair.
To provide context, my hair is thick, wavy, and long. I dread hair washing days (although I love the feeling of clean hair!) simply because it takes me forever to style my hair. About 6 months ago, I decided to give the Airwrap blow dryer attachment a try, and was extremely impressed by how quickly my hair dried with this tool. Not only does it dry my hair quickly, but I also find it to be smoothing – I think this has something to do with the fact that the tool doesn't need to be very hot in order to dry the hair.
Once I have my hair about 80% dry with the blow dryer attachment, I switch to the firm smoothing brush tool, which is really what takes this to the next level for me. I find that using the smoothing brush attachment gives me a salon-like blowout and takes care of a lot of the straightening that I need to get the waves out of my hair. I still run a straightening iron through my hair after using the brush attachment, but I'd say it takes care of about 75% of the work!
Since using the Airwrap Styler to dry/straighten my hair, I have noticed much less breakage, and maybe even more importantly, much less frizziness! But the biggest reason I love this tool is…. it gives me an extra day in between washes due to the salon-like blowout it offers! I used to wash my hair every third day (so two days in between washes), and now I can squeeze an extra day out my hair because it doesn't seem to fall as flat!
Overall, the Dyson Airwrap Multi-Styler is now a staple in my hair care routine, and it's one that I have no regrets purchasing! While it definitely is an investment, I like to think of it is having multiple hair tools in one. I also wanted to mention that the storage case the product comes in is super nice and houses everything in one place!
I hope this was a helpful review! I am no beauty blogger but enjoy sharing about products I'm loving. Let me know if you have any questions in the comments below!

-A