Choosing a wedding gown was as much fun as I'd always imagined it would be. It was definitely one of the highlights of the wedding planning process!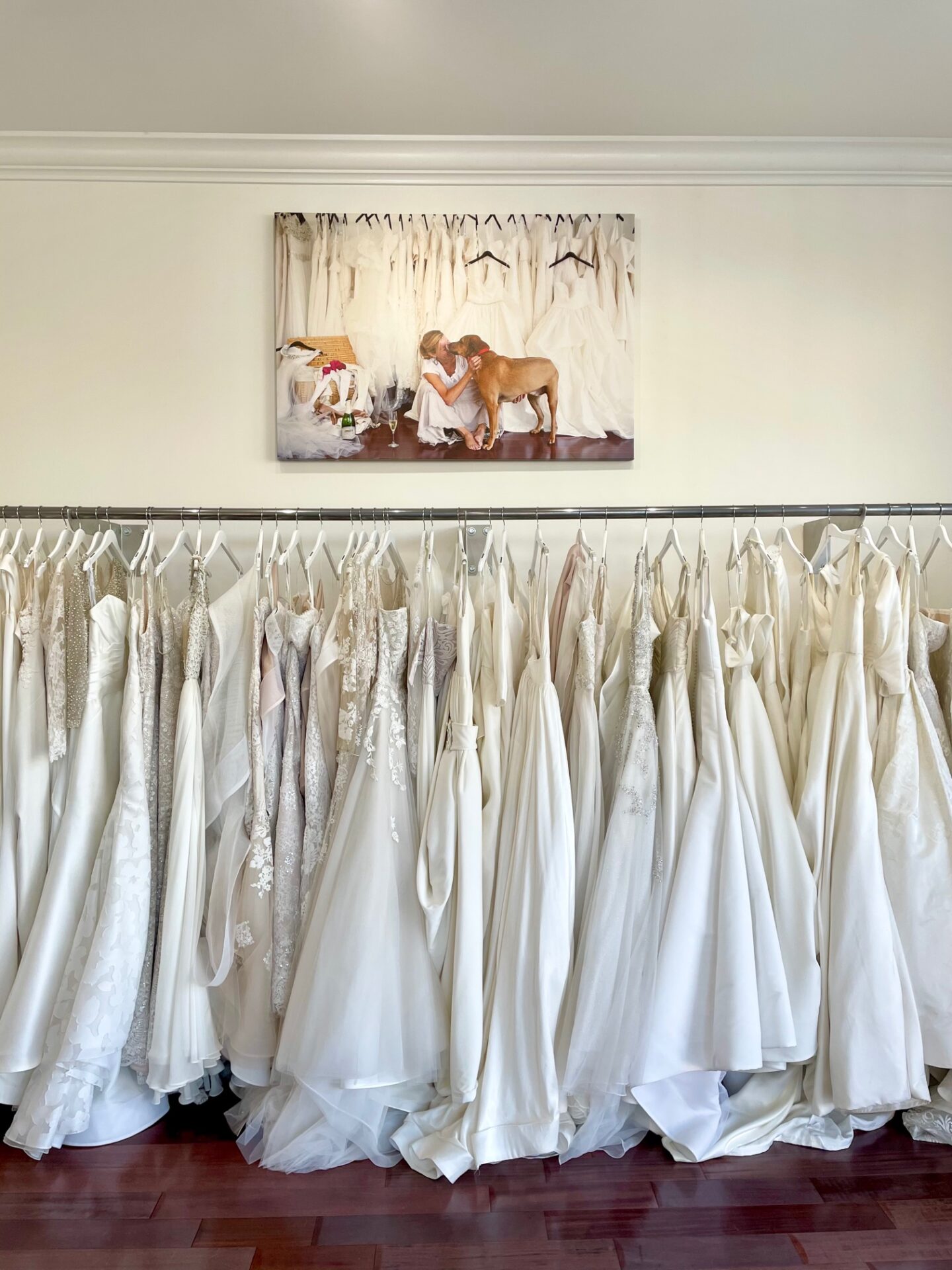 Selecting a wedding dress was one of the first wedding planning to-do items I checked off my list! My mom, sister, and I spent a day in January visiting wedding gown boutiques in Charleston. I made only two appointments, as I felt pretty certain that I was going to find my dress at the same place my sister found her dress, White on Daniel Island. We made a fun day out of it! My mom and sister brought some champagne to sip as I tried on gowns, and we had lunch at one of our favorite lunch spots downtown!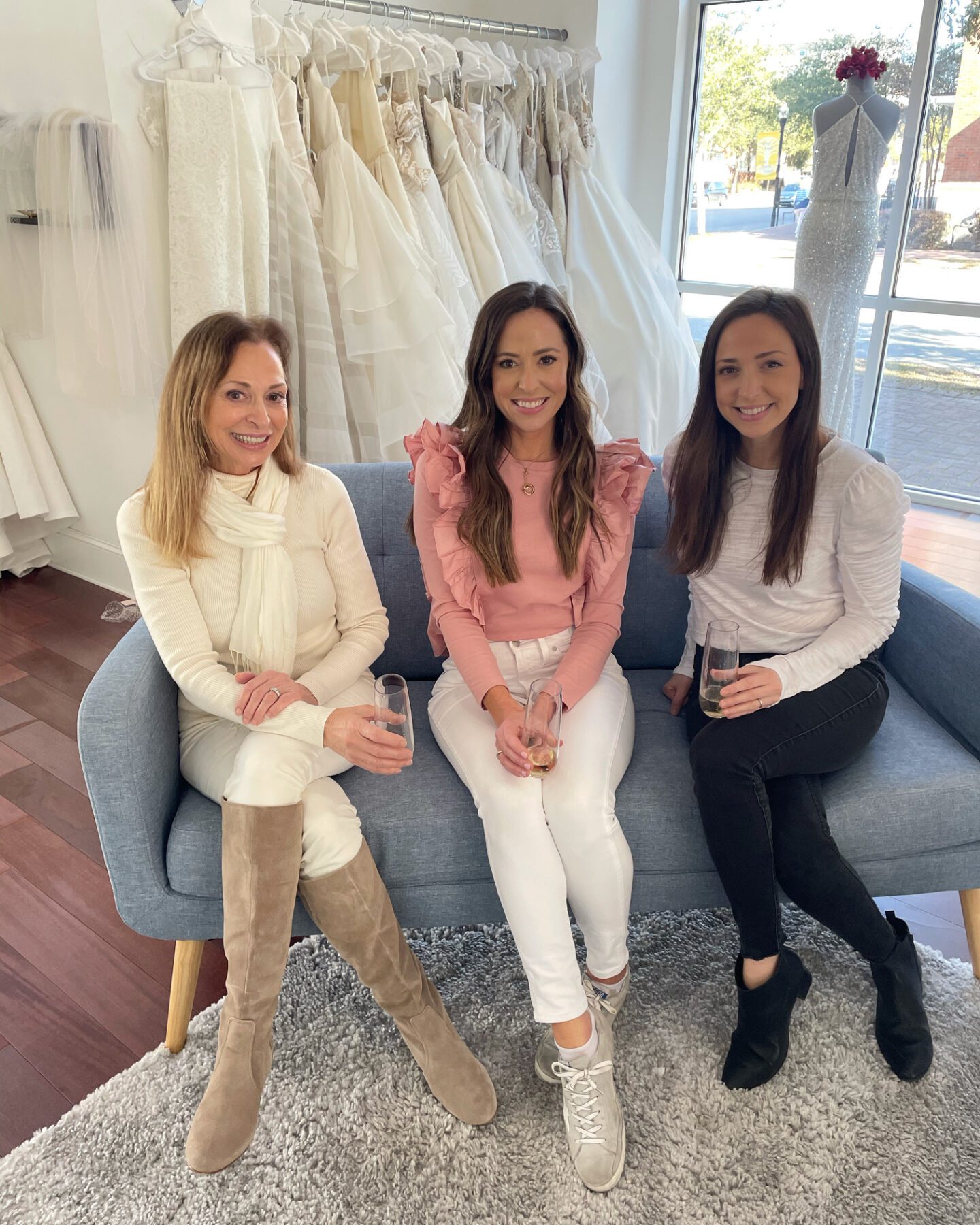 Our first stop was White on Daniel Island. Betsy at White did a great job selecting dresses for me to try on based on the inspiration photos I sent prior to my appointment. I am a minimalist and was drawn to gowns that didn't have too much embellishment. Taking into consideration that the wedding was in June, I didn't want anything that felt too heavy – I wanted a dress that would move with me, if that makes sense. I believe it was the third dress that I tried on that felt like 'the one' for me. I loved that it had a simple A-line silhouette, with a low-cut back. The buttons and long train gave it the 'wow' factor I was looking for, while remaining simple in design. The dress was actually one that was designed by the owner, Jodi. I loved that it was one of her designs!
We tried on a few veils, and as soon as I saw the cathedral style veil with beautiful embroidered details, I knew I found the perfect pairing! It's hard to tell from the photos, but the veil had beautiful beading in the shape of small flowers down the veil. It added a whimsical feel, and the embellishments really complimented the minimalistic design of the dress. My mom and sister confirmed that they felt like this dress was perfect for me!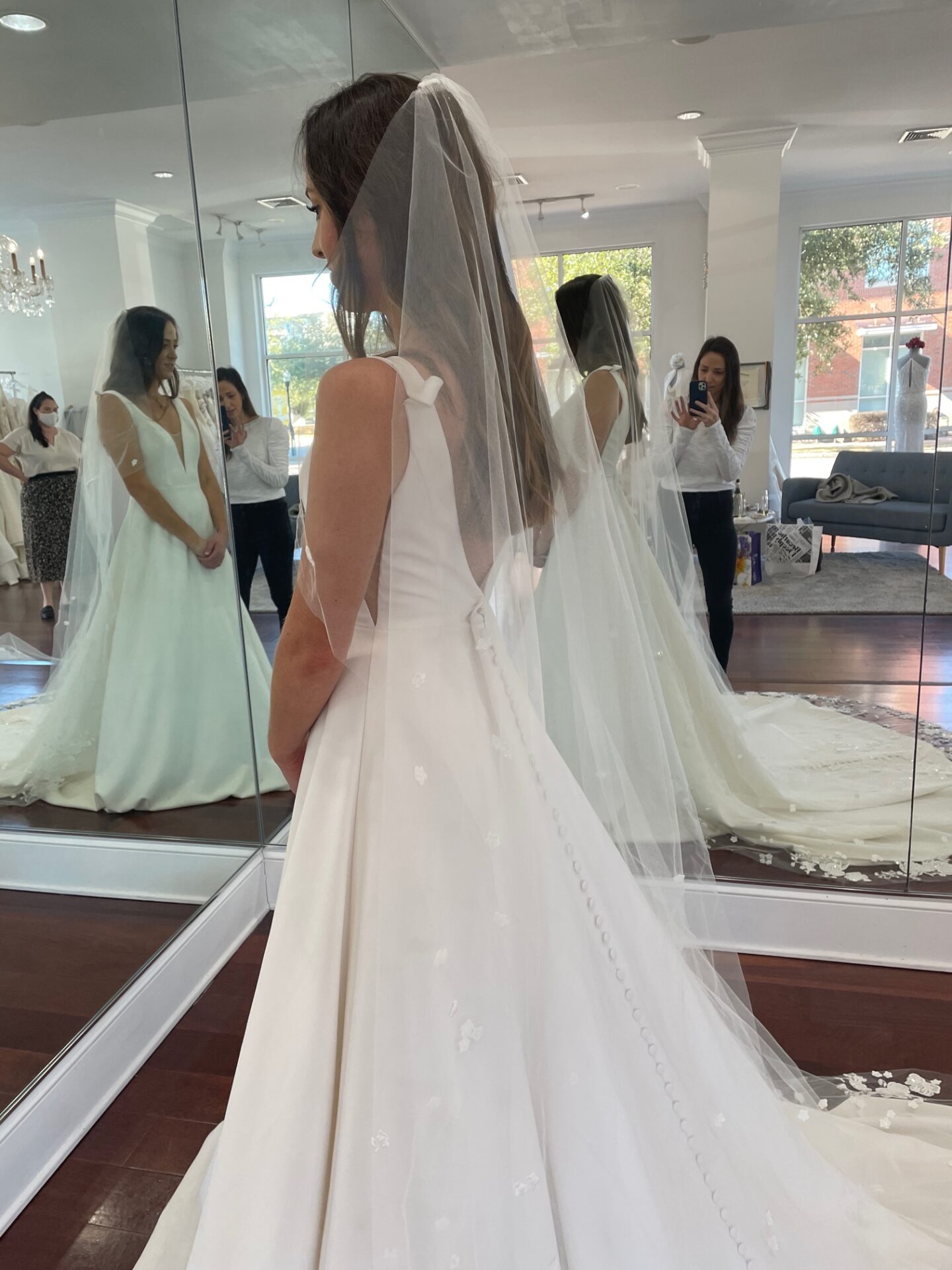 While I felt pretty certain I had found 'the dress', we did end up visiting the other boutique I had scheduled an appointment with. It didn't take me long to realize that I was comparing the other gowns to the one that I had found at White, so we called Betsy as soon as we left to order the dress!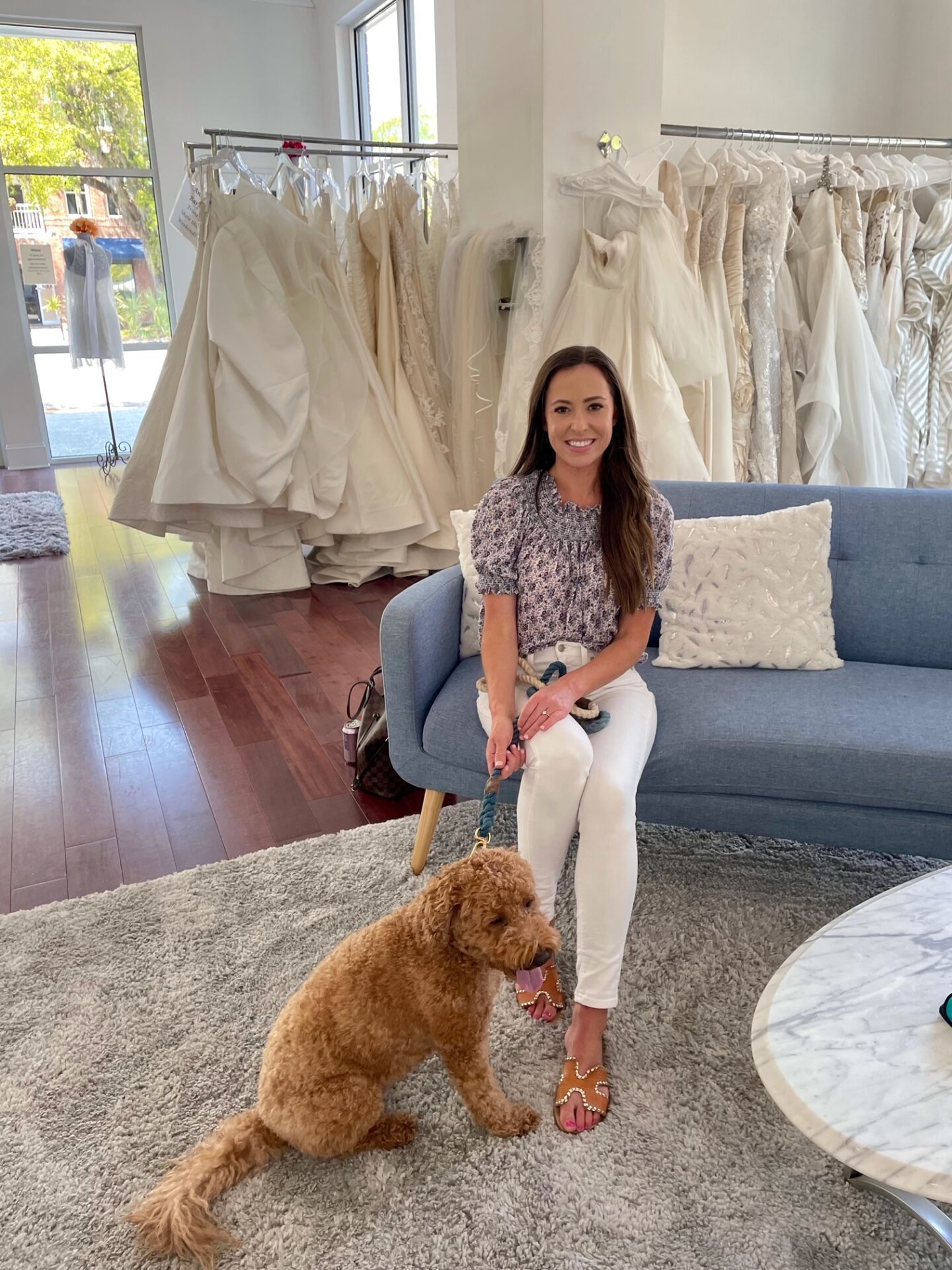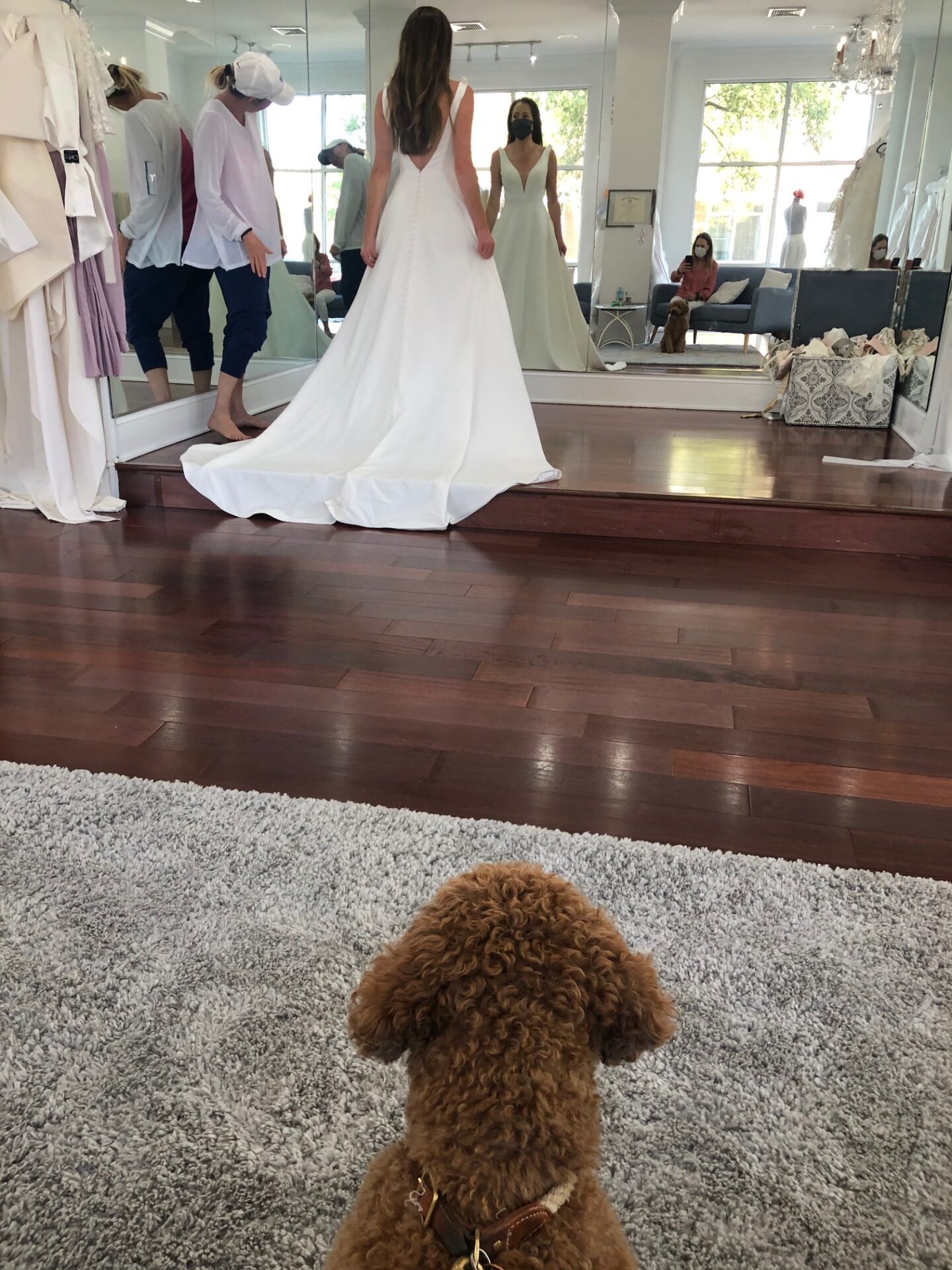 Leading up to our wedding day, I would have several dress fittings to ensure the dress fit perfectly. Beau even came with me on one of my appointments! From the photo above, I think he loved the dress!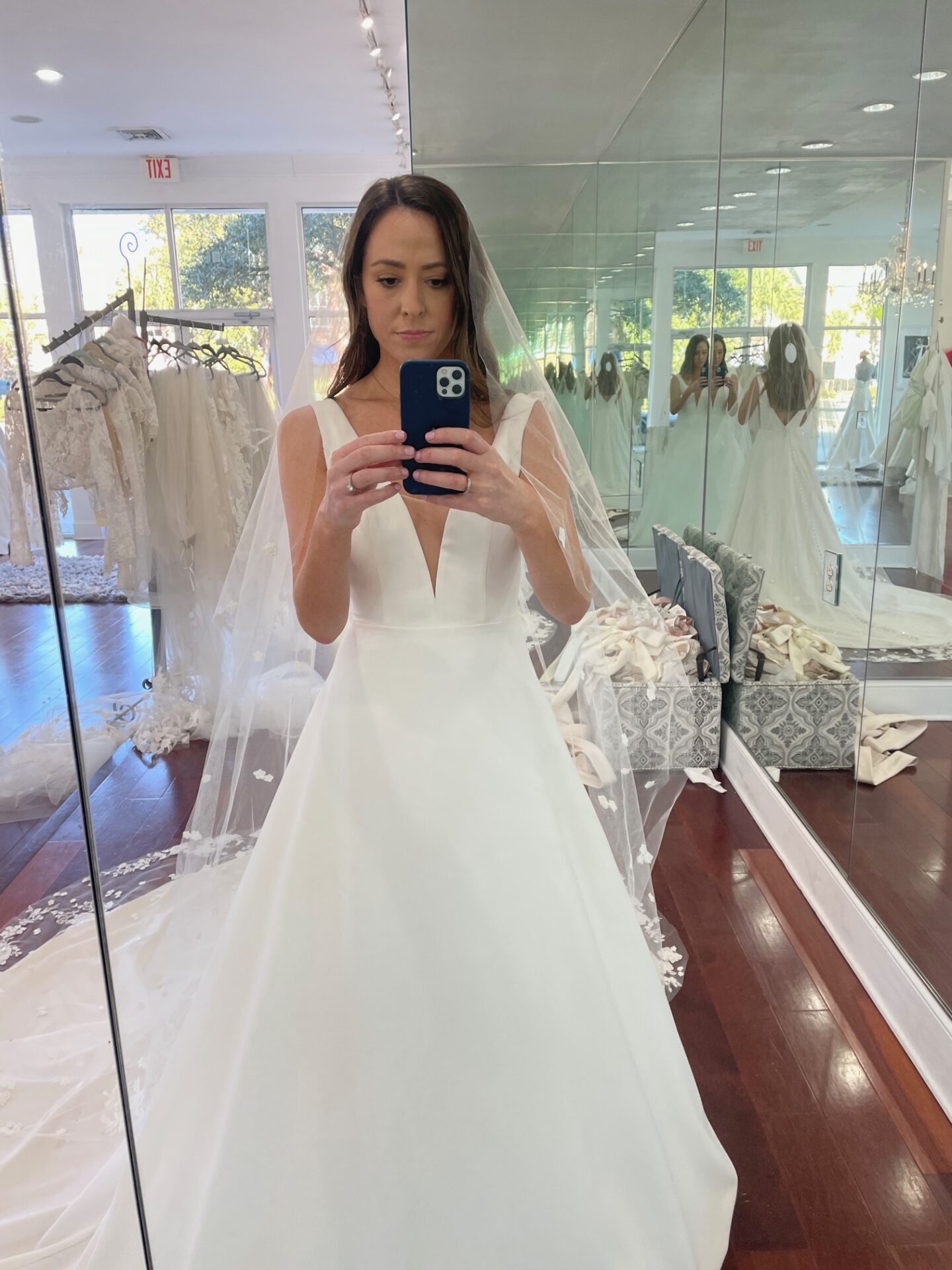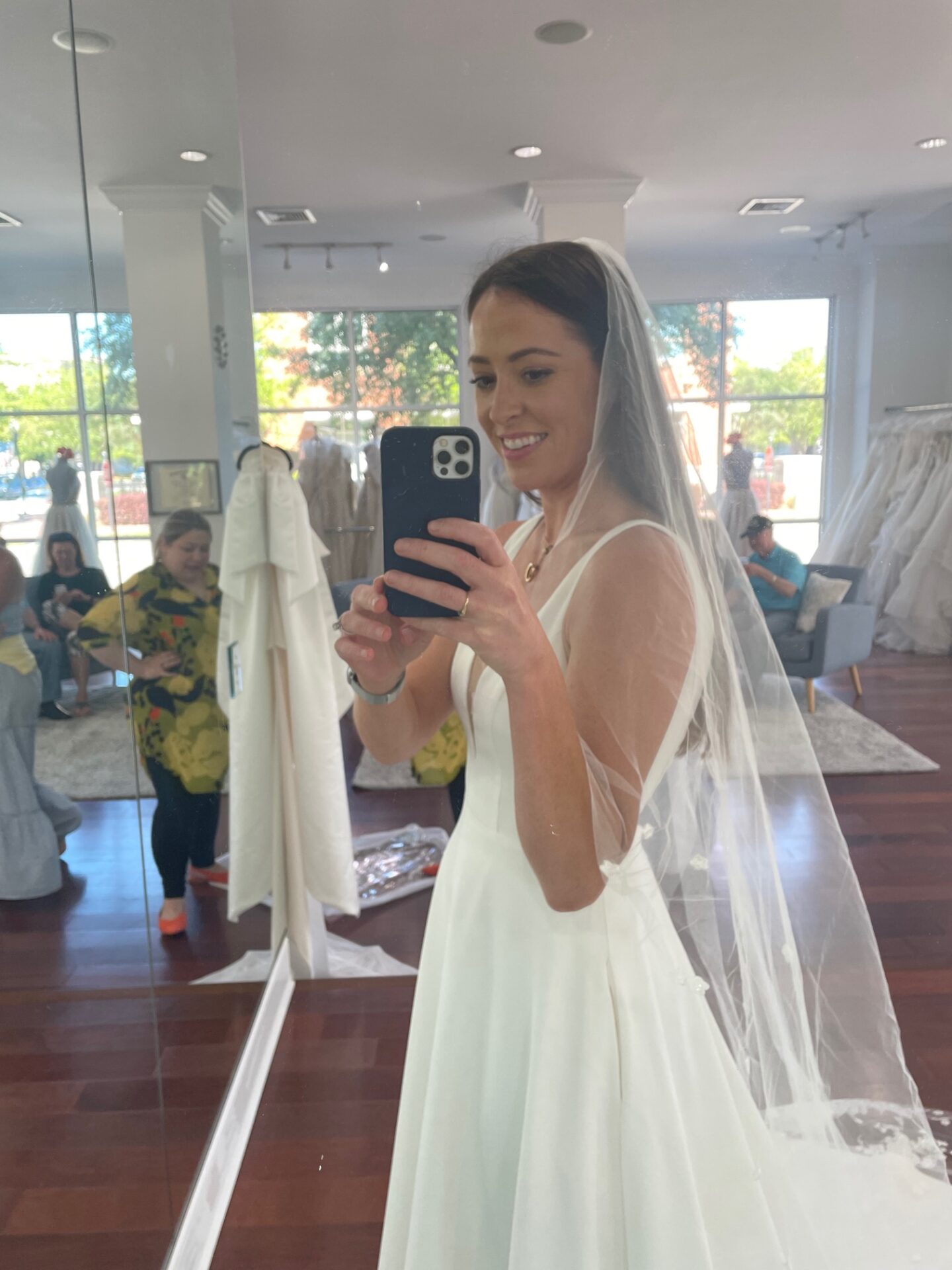 I could hardly stand my excitement the day that I actually got to take my dress home! It meant that our wedding was just a few days away…
Wearing my dress on my wedding day was just as magical as I had always anticipated it to be. I was so happy with my gown choice!
I'm having so much fun sharing posts about our wedding with you. I have more in the works, so stay tuned! 🙂
Thank you for reading!
-A
Vendors:
Photography: Rachel Red Photography
Venue: Wachesaw Plantation
Planning: Ash Events
Florals: Greenskeeper Florist
Gown & Veil: White on Daniel Island
Hair: Jimbo Newton
Nails: Lunala Nail Lab