It may sound crazy, but I did my own wedding makeup!
One of the steps in the wedding planning process is deciding upon who will do your hair and makeup for the big day. As I was in the midst of planning and seeking vendors to help me with hair and makeup, it never occurred to me that I may want to do my own wedding makeup. At the time, the thought seemed somewhat crazy, as I had always imagined having my makeup done by a professional for my wedding day.
We were a bit late in the game in securing hair and makeup plans (brides-to-be, I recommend checking this item off your list early in the process, as vendors book up quickly!). However, I ended up finding a makeup artist and secured our date. Going into the trial run, I was a bit nervous, as I have never loved having my makeup done. At my sister's wedding, I had my makeup done only to quickly wash it off and do my own! Unfortunately, this would also be the case after my trial run for my wedding. While I absolutely loved the makeup artist, I didn't love the makeup on me, and I think this made me realize that doing my own makeup was the only way I'd have full control over the outcome. It had nothing at all to do with the makeup artist… I told my mom that I felt there were some people that looked great in professional makeup, and others (like me) that can easily look overdone. It was important to me that I looked like myself on my wedding day!
With this, I ended up making the decision to do my own makeup for the wedding. My mom and sister also decided to do their own, as well. I will admit, I was a bit nervous, but overall felt good about my decision. I did lots of research on bridal makeup and what works best for weddings – June in Murrells Inlet can be warm and humid, so I needed a makeup that was going to offer lasting coverage! The makeup artist that I met with used an airbrush makeup, which I had heard is commonly used for weddings due to it's lightweight, natural finish, and it's long lasting coverage.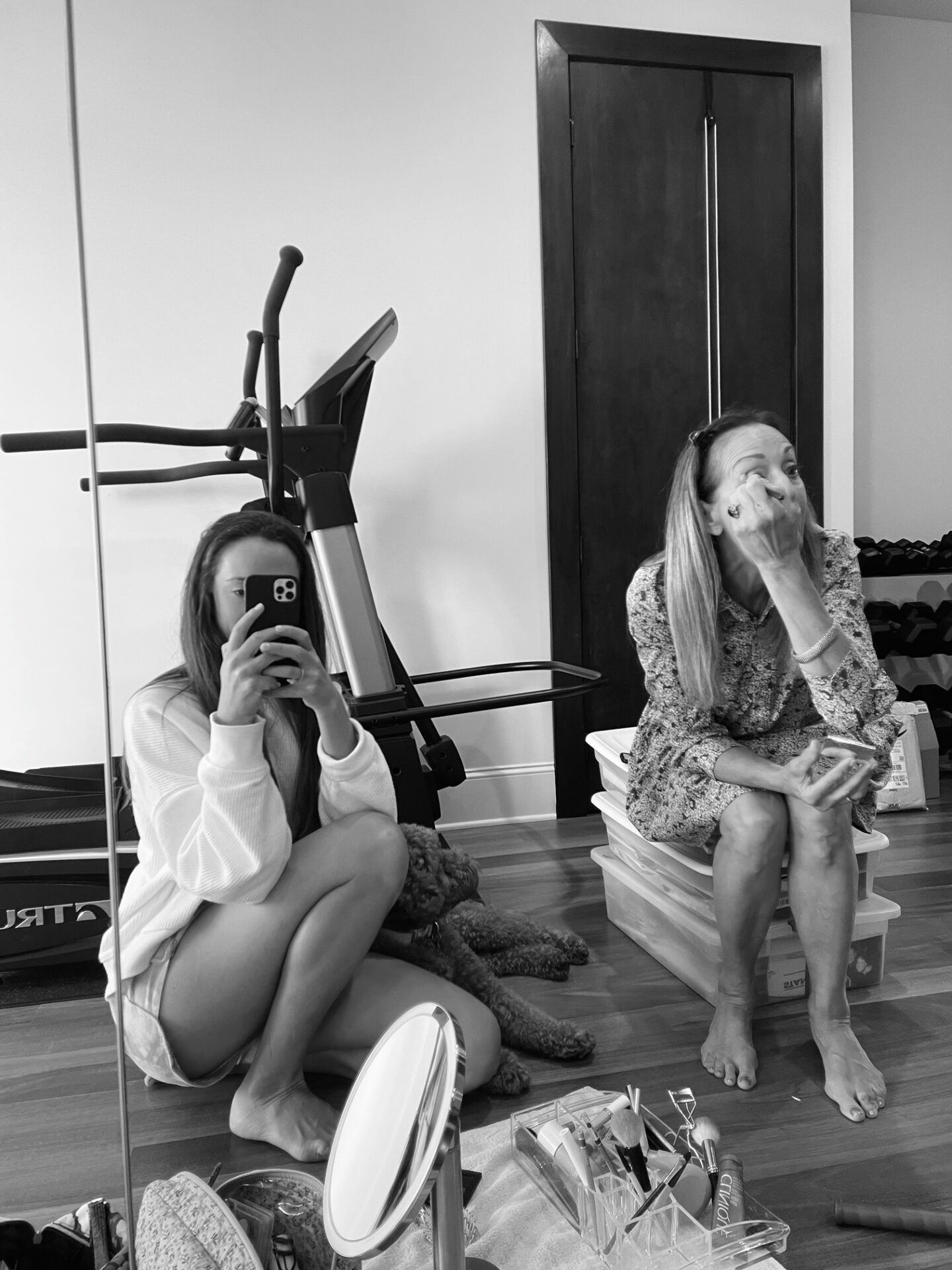 Because airbrush makeup requires an airbrush gun to apply, I assumed it would be costly, however, for the money that we planned on spending towards wedding day makeup, I was able to justify the investment, and it was surprisingly not as expensive as I originally thought. After exploring the best brands, I ended up finding the Temptu Airbrush Starter Kit. The Starter Kit comes with a cordless, lightweight airbrush gun and one Perfect Canvas Airbrush Foundation pod. Temptu offers a huge variety of foundation colors, but one thing to keep in mind is that you cannot blend two different foundation colors when applying airbrush makeup, so finding the right shade is very important. I went with shade 3N (Buff), and it luckily ended up being a perfect match! I also purchased the Perfect Canvas Airbrush Highlighter in the shade 'Champagne', which may be my favorite product ever – it created a beautiful, glowy finish that completed my bridal makeup look.
You can purchase their products directly from the Temptu site, or on Amazon for (very) quick shipping!
I practiced my wedding makeup twice before applying at my own wedding, and I found this to be extremely helpful, as airbrush makeup application is much different than your typical makeup! I was pleased both times with how long-lasting the makeup was, and how lightweight it felt on my skin.
On the day of the wedding, my mom, sister, and I all got ready at my parent's home. We had so much fun helping each other with our wedding makeup! It was relaxing and the perfect way to start the special day.
Overall, I was very happy with my decision to do my own wedding makeup, and highly recommend it for any brides who may be leaning towards this as an option! Ultimately, it is your day, so whatever will cause the least amount of stress is always what is best.
I've included below some of the products I used to complete my makeup look:
I hope this post was helpful! Thanks for reading!
-A
---
Vendors:
Photography: Rachel Red Photography
Venue: Wachesaw Plantation
Planning: Ash Events
Florals: Greenskeeper Florist
Gown & Veil: White on Daniel Island
Hair: Jimbo Newton
Nails: Lunala Nail Lab