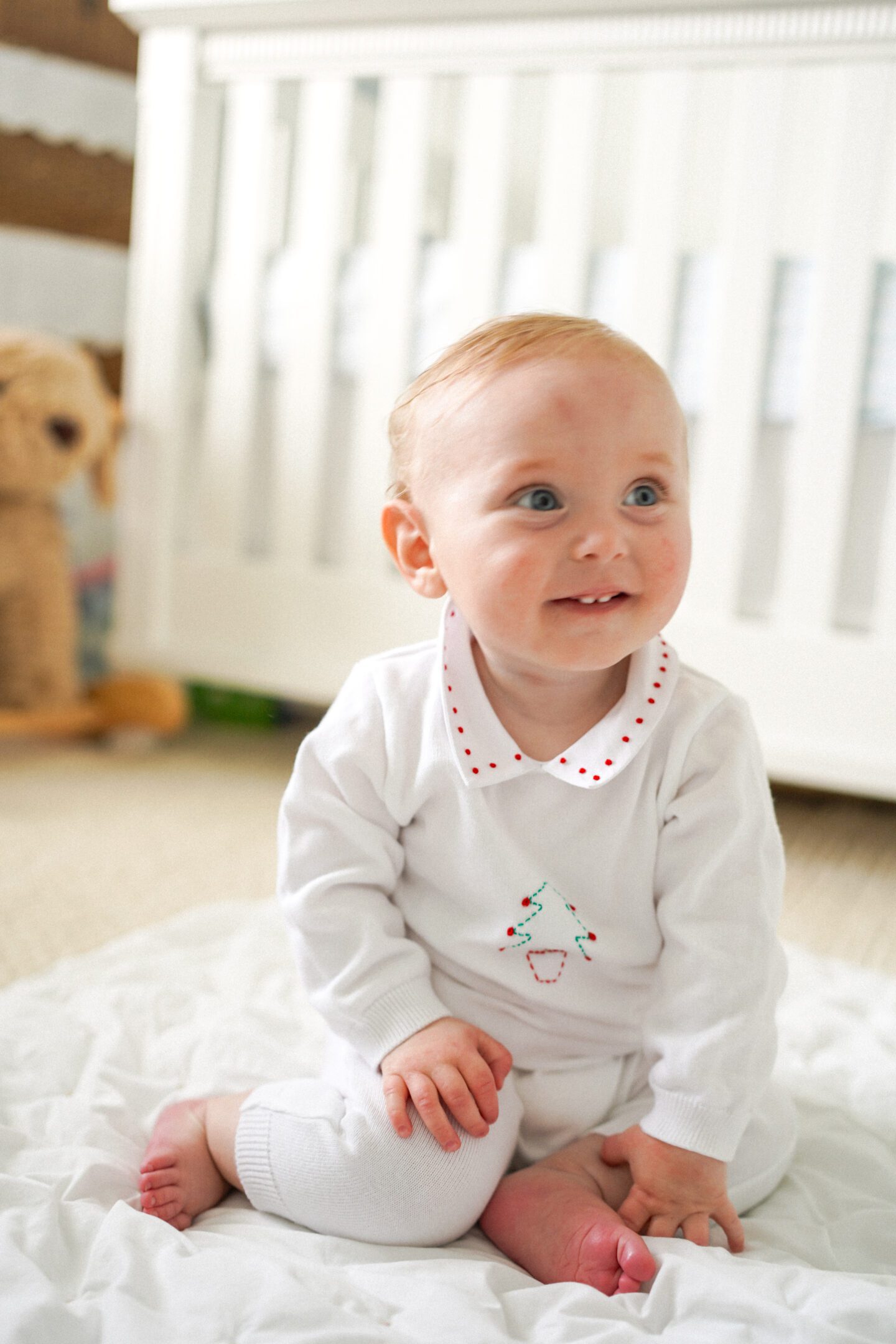 The Christmas season is my favorite time of year, and this year I'm especially excited, as it will be our first Christmas with Walker. Something about having a little one makes me extra excited for all of the holiday things! I'm already thinking of all of the traditions that I want to start with him, both traditions that I grew up with, and also some new ones of our own. I have a whole post in the works dedicated to traditions new and old, which I'll be sharing soon!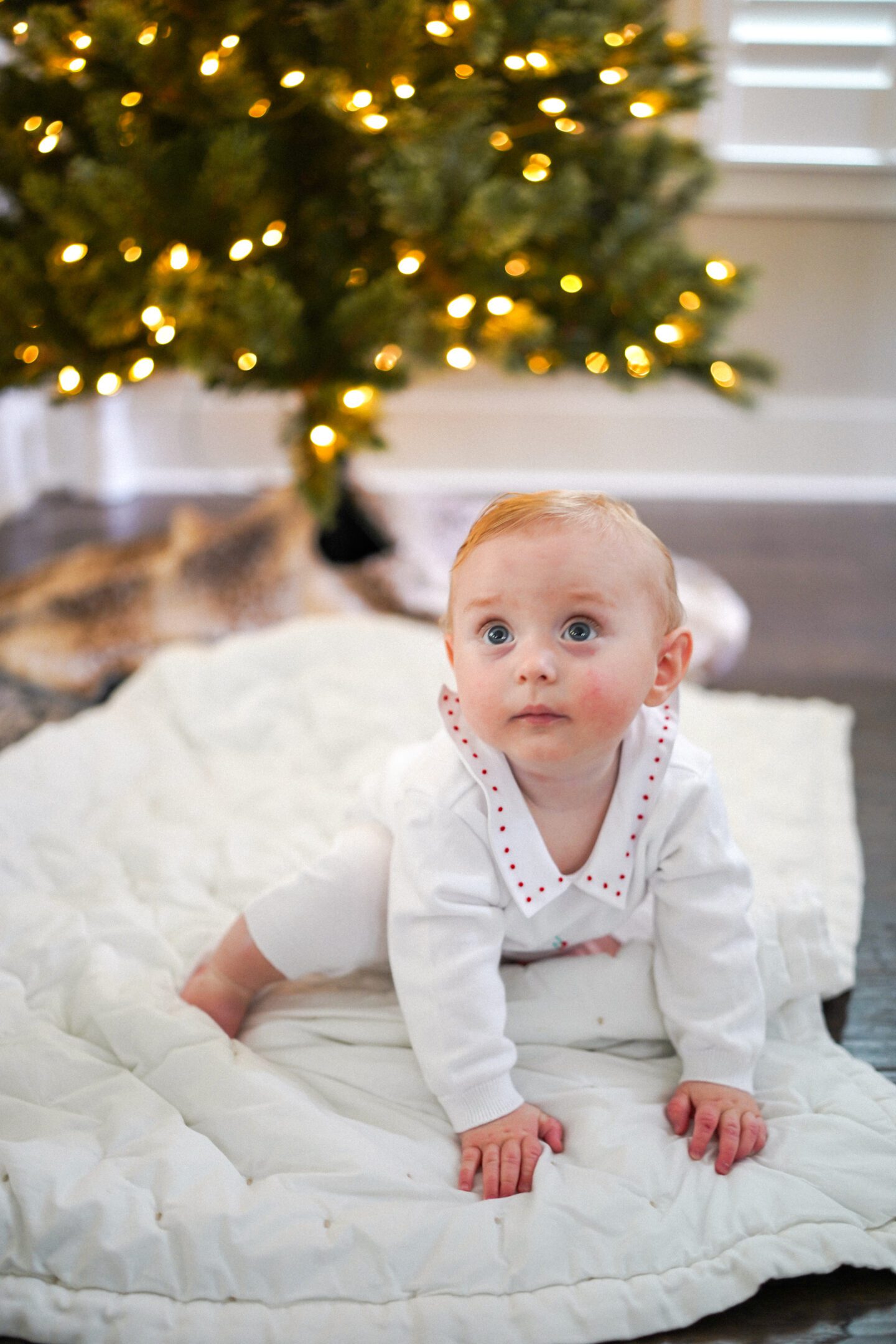 Today, I am sharing some of my favorite holiday clothing finds for little ones. With the holidays quickly approaching, I know many of us are shopping for some new pieces for littles to wear this season! Here are some favorite retailers and holiday pieces for children: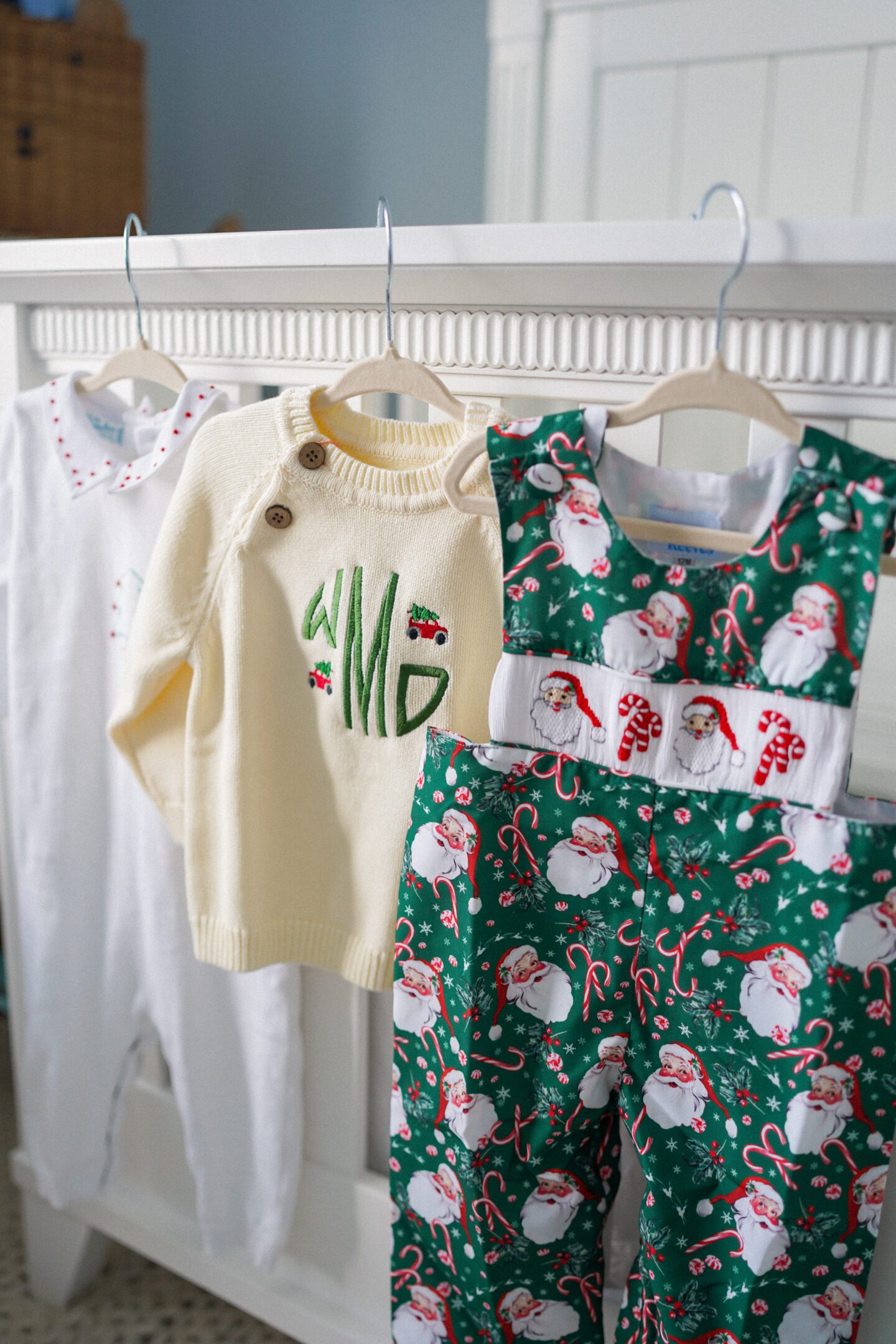 Feltman Brothers White Romper | HLH Embroidery Sweater | Ann Reeves Kids Santa Longall
Ann Reeves Kids – I was recently introduced to this sweet brand after receiving this adorable Santa Longall, and we became instant fans! This cheerful Santa print immediately made me feel nostalgic for Christmases when I was a little girl. I love the smocked details, and the quality is superb. This Holiday Plaid Bubble is another favorite. These are, without a doubt, keepsake pieces that you could easily pass down because they are classics! We are excited to take Walker to meet Santa for the first time, and will no doubt be wearing his Santa Longall for the occasion!
Beaufort Bonnet Company – TBBC is a go-to shopping destination for when I'm looking for clothing for Walker that is high quality but that isn't too "precious" for him to play in. They seem to always have the perfect occasion pieces, along with every day pieces that are still stylish. Their holiday collection is no exception!
Feltman Brothers – Feltman Brothers is such a timeless brand that offers heirloom-quality pieces for little ones. Their Christmas collection has so many adorable pieces that are perfect for the special occasions the holiday will bring, along with pieces that are a little more casual but still festive for the holiday. A few favorites are this sweet Floral Smocked Holiday Dress (comes with matching bloomers), this Knit Christmas Tree Longall that Walker will be wearing this holiday season (currently on special sale for $29 with the code BLACKFRIDAY23!), and this Velour Holiday Romper. When I think of classic baby clothing, I think of Feltman Brothers, and their pieces are sure to be keepsakes!
Cecil and Lou – Cecil and Lou's smocked clothing is so darling! There isn't a piece that I don't love on their site, and so many of their styles can be monogrammed! They have a super cute holiday collection (some of which are pre-sale). How sweet is this Nutcracker print dress? And this little Jon-Jon would be perfect for Christmas photos!
Dondolo – Even before having a baby, I have been a fan of Dondolo. The brand is equally known for their beautiful dresses for women as they are for their clothing for children. Their holiday collection is complete with dresses, bubbles, and overalls that are sure to become heirloom pieces. I love that they offer pieces for mom that compliment clothing for the littles! My favorites in their holiday collection are this smocked Sugarplum Bubble, this adorable baby boy bubble, and this sweet dress. They also have holiday PJs (and matching ones for Mom and Dad!)
There are SO many amazing children's clothing brands out there with adorable holiday collections! This is just a small list of favorites. Thank you so much for reading!