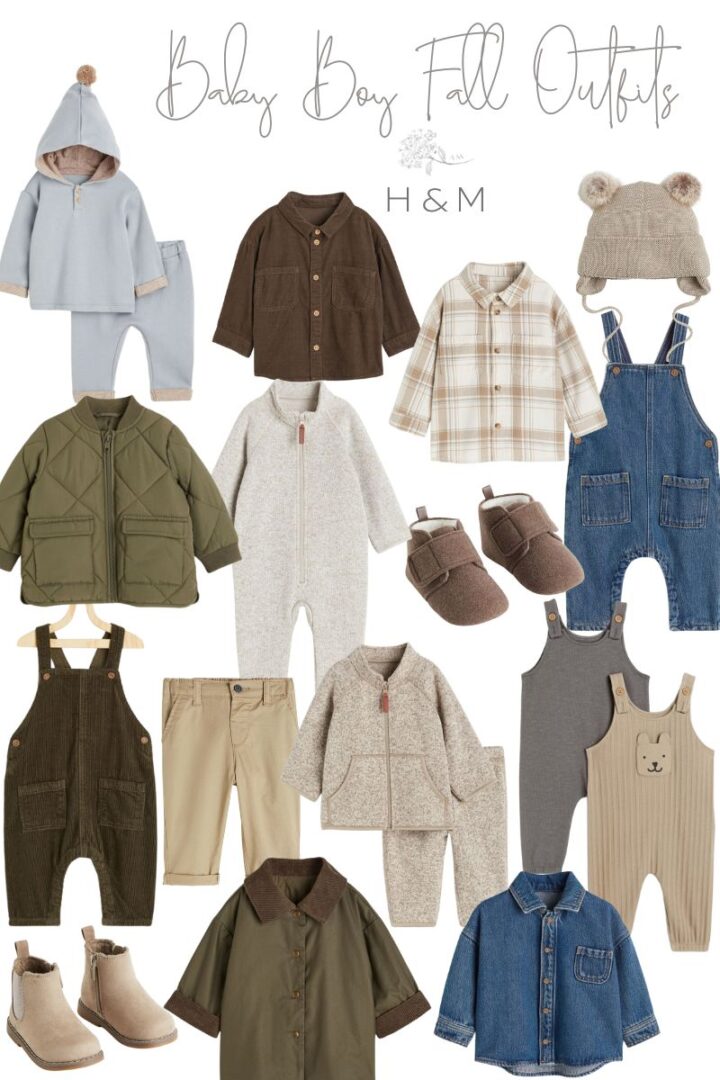 I just love the feeling that the change in seasons brings. Autumn, along with spring, are the two seasons that I look forward to most, and both inspire me in their own ways. It is our first autumn with our baby boy, so I'm looking forward to all of the fun things that we can do as a family to enjoy this season. I have a mini "bucket list" of things I'm hoping to do towards the bottom of this post!
But first, I'm sharing some adorable fall finds from H&M for baby boys. This is actually the first time I've ordered from H&M for Walker, so I don't have any experience with their clothing for littles, but I have heard from many other moms that this is a must-shop retailer if you're looking for cute baby/children's clothing at affordable prices. I set out to purchase Walker a few "little boy" outfits (think overalls, jeans, and tops), as I already ordered him some adorable smocked bubbles and Jon Jons for the holidays coming up.
I got him these adorable corduroy overalls and this denim shirt to pair with it and these denim overalls with a flannel shirt to go underneath.
While I was shopping, I saved some other favorites for little boys and am sharing them below:
Now, onto our fall bucket list… here's what I can't wait to do!
Visit a pumpkin patch with Walker – yes, he is a little too young to get excited about a pumpkin patch, but I am excited about seeing him experience a pumpkin patch for the first time (and to snap a few photos while we are there!). We are fortunate that Boone Hall farms is so close. They have a great pumpkin patch (and also the best farm stand, which is open daily!). I already have picked out his little outfit!
Cook/bake fall recipes – I am currently gluten/dairy/egg free as we rule out some potential allergies that Walker may have, so I've been on the hunt for some fall recipes that will give me the cozy vibes I'm looking for while still being allergen-free! If you know of any great ones, send them my way 🙂
Make a simmer pot – I love putting together a simmer pot on a cool day when I know we are going to want to be inside and cozy all day, or if we have company coming over, as it makes the house smell so good! I wrote a blog post a couple years ago with a favorite simmer pot recipe – check it out here!
Decorate our front entry for fall – I can't wait to spruce up our front entry with a fall wreath, some pumpkins, and fall flowers!
Beach walk with Walker and Beau – fall is my favorite time to visit the beach. Humidity levels are down and the beaches are not as crowded this time of year, making it a perfect time to visit!
Walk around downtown Charleston – I'm so excited to stroll around the South of Broad area downtown with Walker. We've been inside a lot this summer with the heat, so it will be so nice to show him one of my favorite areas of our city when the temps cool down!
Fall travels – We won't be doing much traveling this year with Walker being so young, but we are hoping to take a couple of weekend trips this fall, including visiting north GA to see Michael's family, and heading up to Murrells Inlet to spend time with my family!
I'd love to know, what is on your fall bucket list?
Thank you for reading!