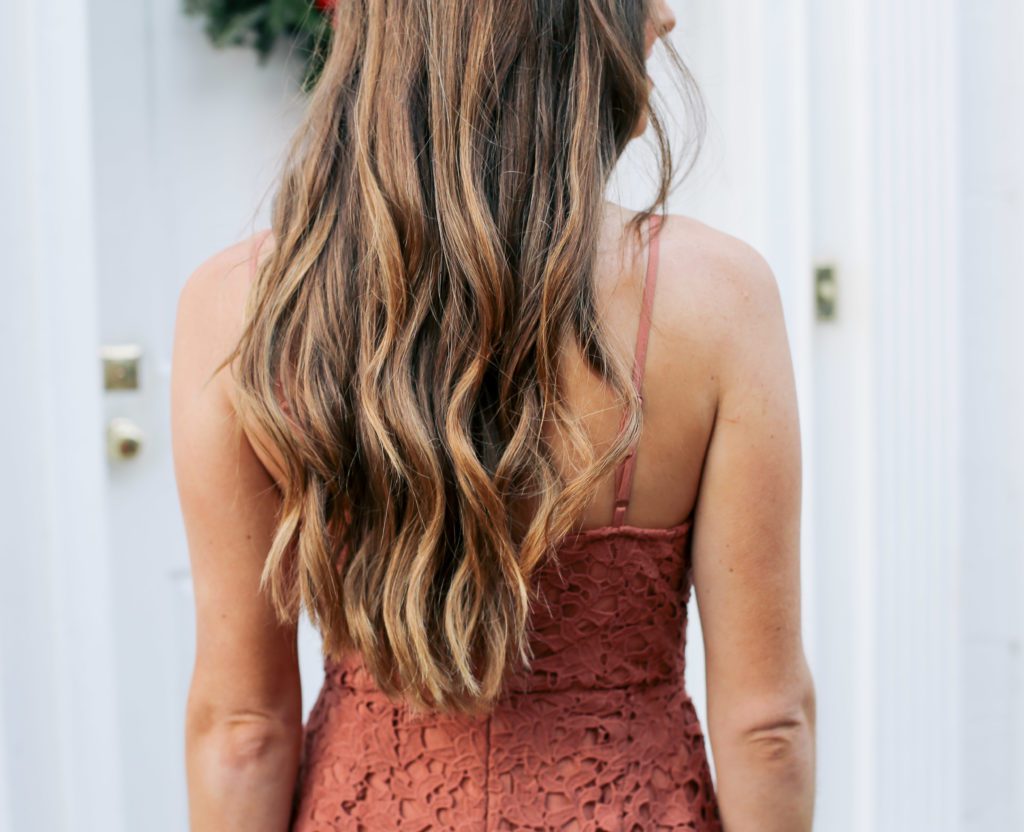 Happy Sunday everyone!
I sometimes get questions regarding the hair products that I use, so I thought it would be fun to share what products I've been using lately, and what works for me.
I've always had very thick hair, and have kept it long the majority of my life. My hair has a natural wave to it, which is good and bad – there are so many times when I wish it would just be naturally straight so that I didn't have to flat iron it! In high school and college, I often let my hair air-dry into loose beach waves. This may sound crazy, but back then, I used to bottle water from the ocean and would spray it in my hair to achieve said waves! 🙂 Now that I'm out of college and have been in the workforce for quite some time, I prefer to wear my hair straight, or curled, for an everyday style.
I've gone back and forth between shampoo and conditioner brands all of my life. My number one requirement for hair products is that they are not too heavy, though I still want something that is smoothing since I live in a very humid climate! Earlier this year, I discovered Bumble and Bumble Invisible Oil Hairdressers Shampoo and Conditioner when a friend recommended it to me. At first, I was hesitant, because… oil? It had to be heavy, right? The answer is no, at least not for me. These products make me feel like I've just left the hairdresser each time I use them. They are smoothing, and my hair has felt so healthy since I've started using them. The price tag is more than what I typically spend on hair products, but I feel that it's well worth it. I also rotate with other less expensive options each wash, like this clarifying shampoo I purchase at Whole Foods (can also be purchased on Amazon). I love using a clarifying shampoo once a week to remove any product build-up, and it leaves my hair feeling super clean!
Last, but not least, in the Summer months especially, I use a hair mask every week or so – Burt's Bee's Avocado Pre-Shampoo Hair Treatment. This product is amazing! My hair always feels so hydrated after I use this. It's perfect for the Summer months when your hair starts to feel the effects of the heat and sun. It's affordable, and you only need a small amount for each mask!
I thought I'd mention, somewhat reluctantly – I don't wash my hair everyday. Mainly because it takes so long to blow dry and style, but also because my hair seems healthier if I skip the heat and hair tools every other day.
Everyone's hair is different, so you may find that other products and hair care routines work well for you. I always love to hear about any products you're loving, or that you'd recommend! Feel free to leave a comment below.
Thanks for reading,
-The Beach Belle
Shop the Post: