Now that we're back from our honeymoon, my plan is to start sharing more wedding content over the next few weeks! I wanted to start by sharing about our Welcome Party that we held the evening before our wedding day.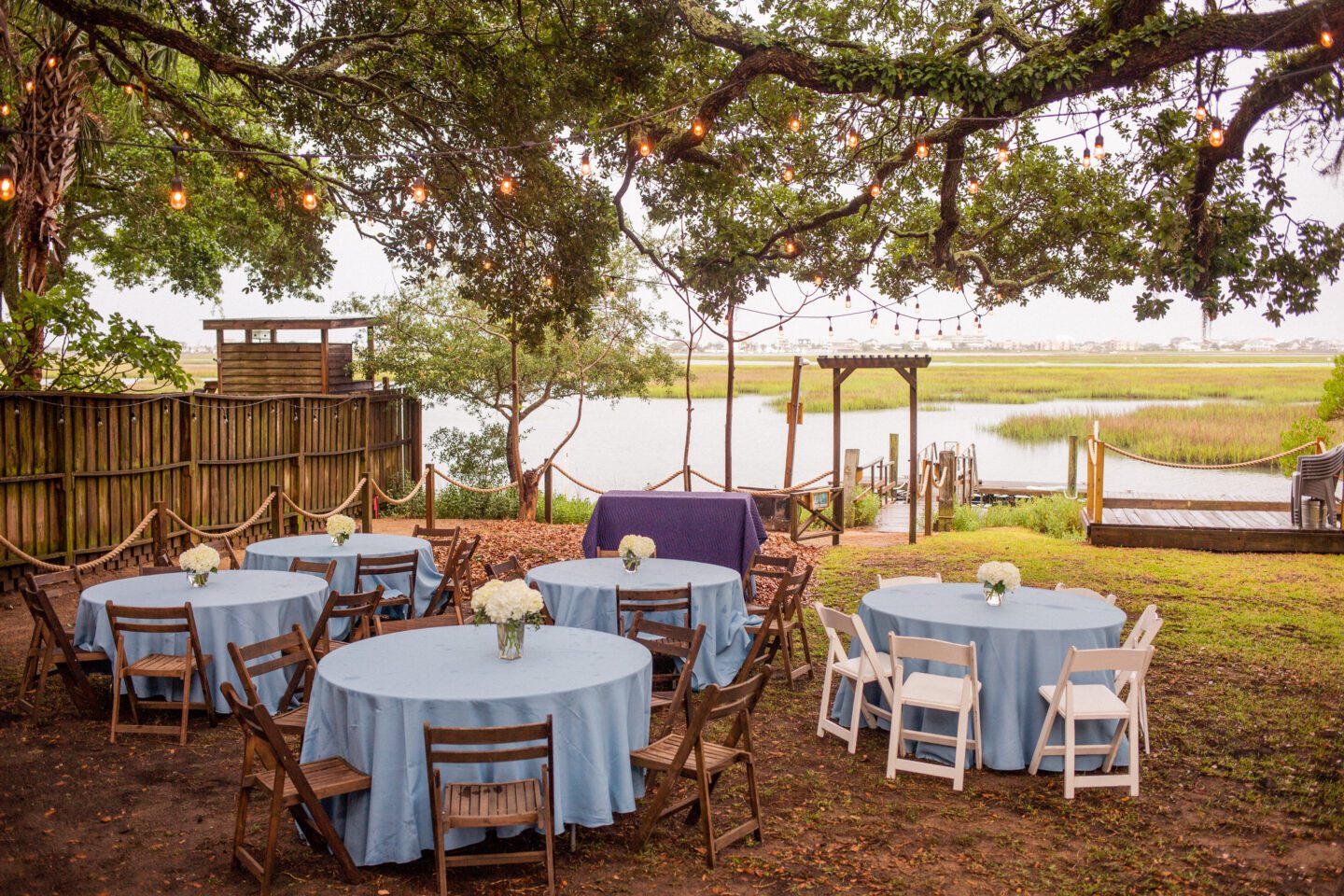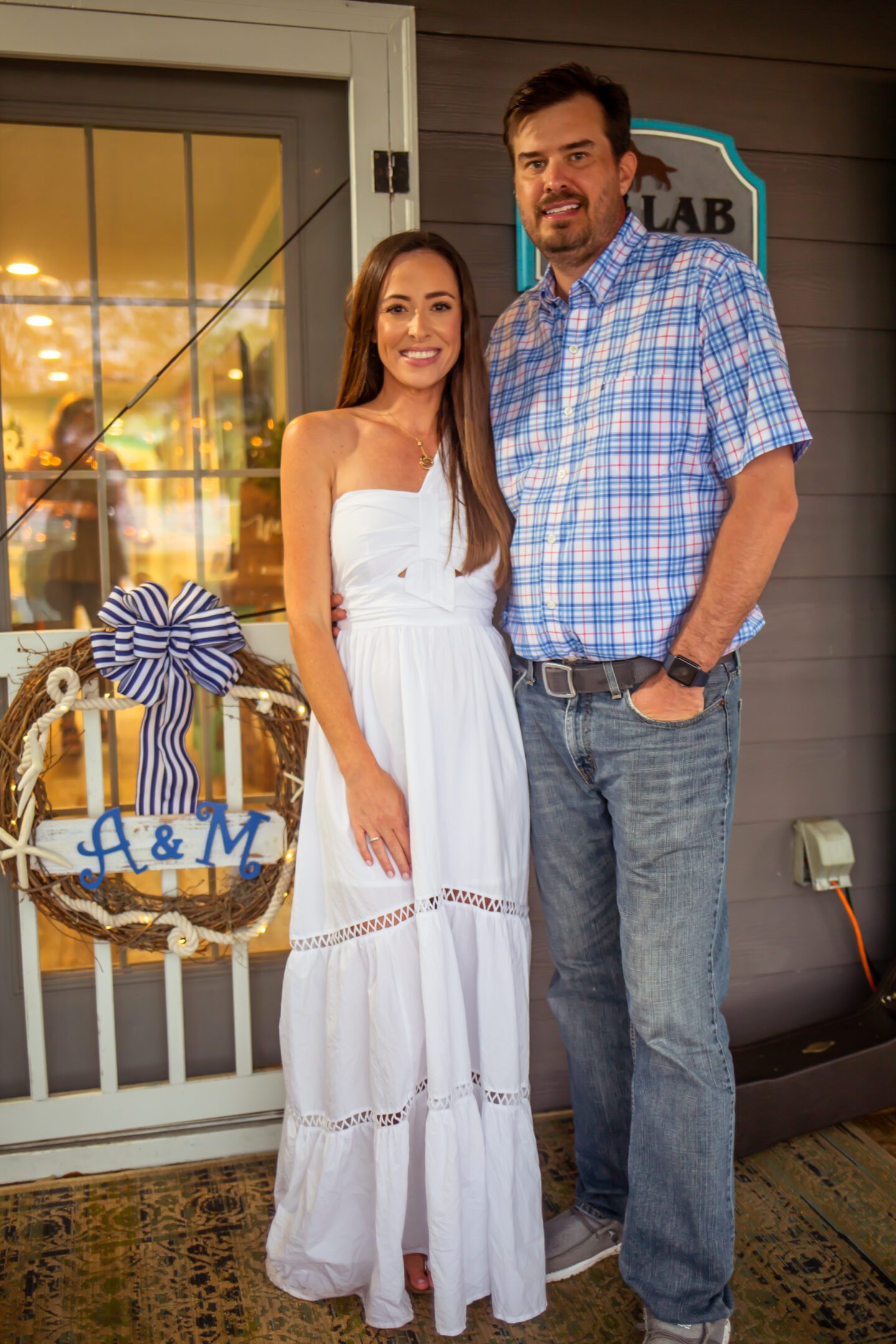 We got married at a venue in Murrells Inlet (Wachesaw Plantation, which I will share more about in another post!). For those who are not familiar with it, Murrells Inlet is just about an hour and a half from Charleston. My parents live there and we always love visiting. It's a bit more slower paced than Charleston, but has a lot to offer, including the beautiful Marsh Walk area, which is a boardwalk that overlooks the inlet offering restaurants, bars, ice cream shops, and water-sport activities. Murrells Inlet is just about 15 minutes in either direction from Pawleys Island and Garden City Beach, and it is about 20 minutes from Myrtle Beach.
Since most of our guests would be traveling from out of town, we decided to have a Welcome Party in lieu of a Rehearsal Dinner. We wanted all of our guests to be included in the pre-wedding festivities since most were traveling and making a vacation out of the weekend. We also had a small wedding party, so this idea made the most sense to us! If anyone ever asks me my thoughts on inviting all guests to a Welcome Party or a pre-wedding event, I will always highly recommend it, and here's why:
It gave everyone from the bride and groom's side the chance to meet each other and get to know each other before the wedding day! We ended up feeling like everyone left our wedding weekend as great friends, and we all said that we needed an occasion to get everyone together every year!
It allowed Michael and I the chance to greet and mingle with our guests at the Welcome Party, so on the night of the wedding, we were able to spend more time together as a couple. This also made it so much more relaxing on our big day!
Guests were able to really make a weekend out of the celebrations, versus just a night!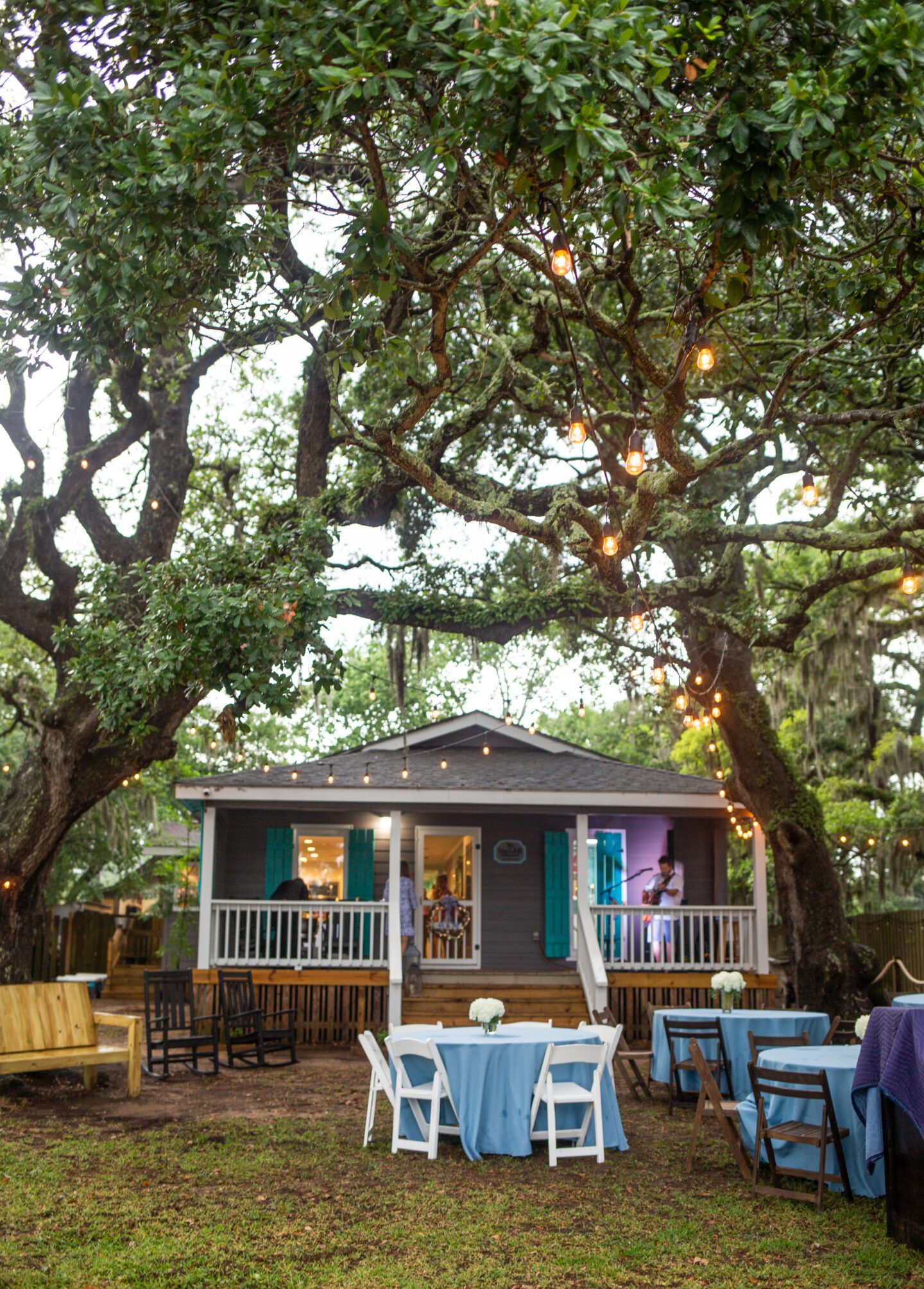 When we began planning our wedding weekend in January, we knew we wanted our event venues to be mostly outdoors, so that everyone would feel comfortable. We landed upon the perfect venue space for our Wedding Welcome Party – the Murrells Inlet Fishing Lodge. The Murrells Inlet Fishing Lodge doubles as a venue space and a vacation rental. It offers a very spacious cottage with 4 bedrooms and space for up to 8 to sleep comfortably! However, we mostly sought this space for its outdoor area. As the property sits adjacent to the Marsh Walk, it offers beautiful views of the inlet, and also has several large live oak trees… it is truly picturesque! The Murrells Inlet Fishing Lodge is tucked right behind Perry's Bait and Tackle on Business 17 in Murrells Inlet. It is hidden from the street, so you would never know this amazing space exists unless you knew!
Michael and his family hosted the event, and Michael decided upon a fish fry as the theme, which was the perfect theme for an event in Murrells Inlet. We loved the idea that it would be a more casual event, with the wedding being a bit more formal! The venue was perfect for this theme, being that it's set right on the inlet, and has a rustic, coastal ambiance.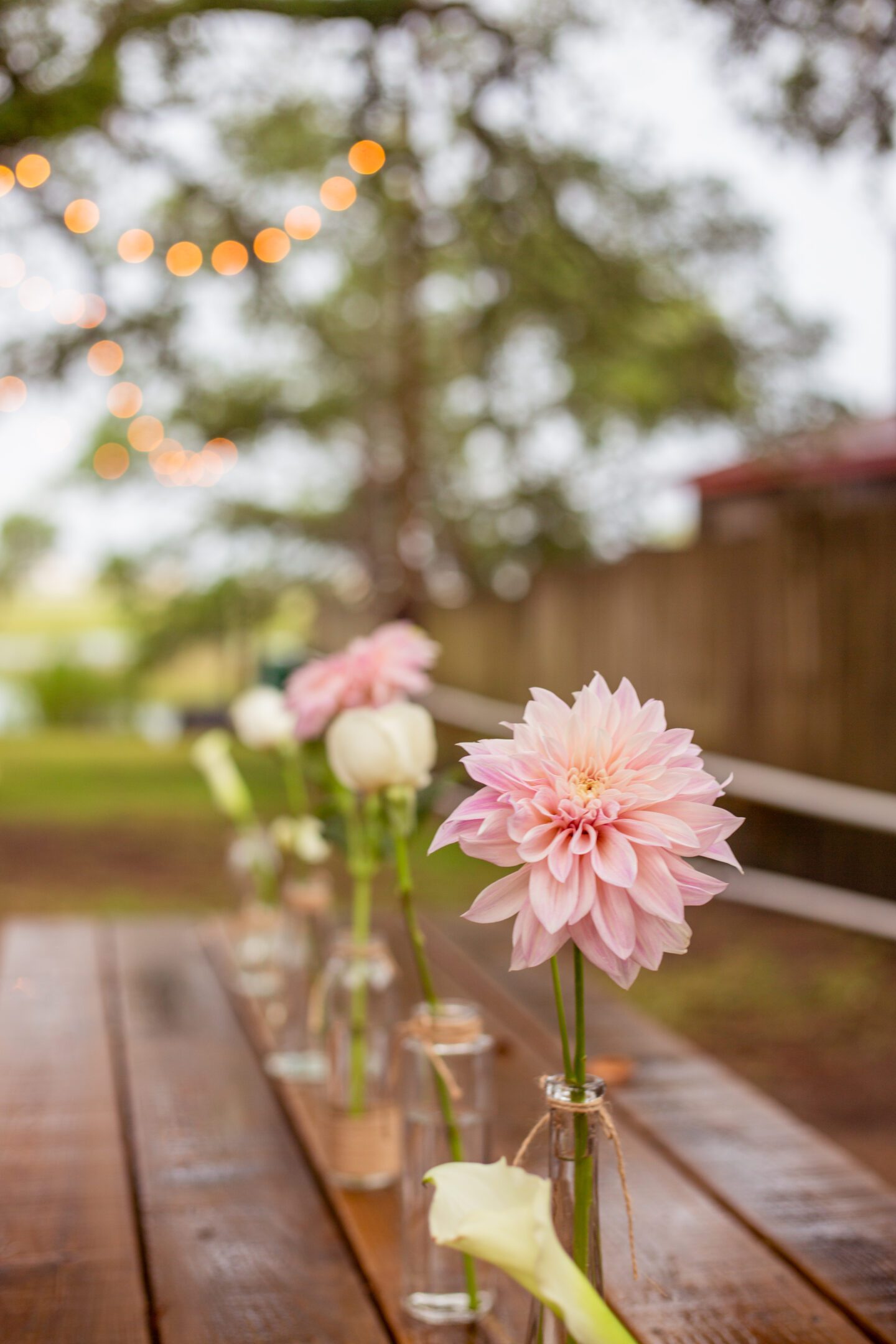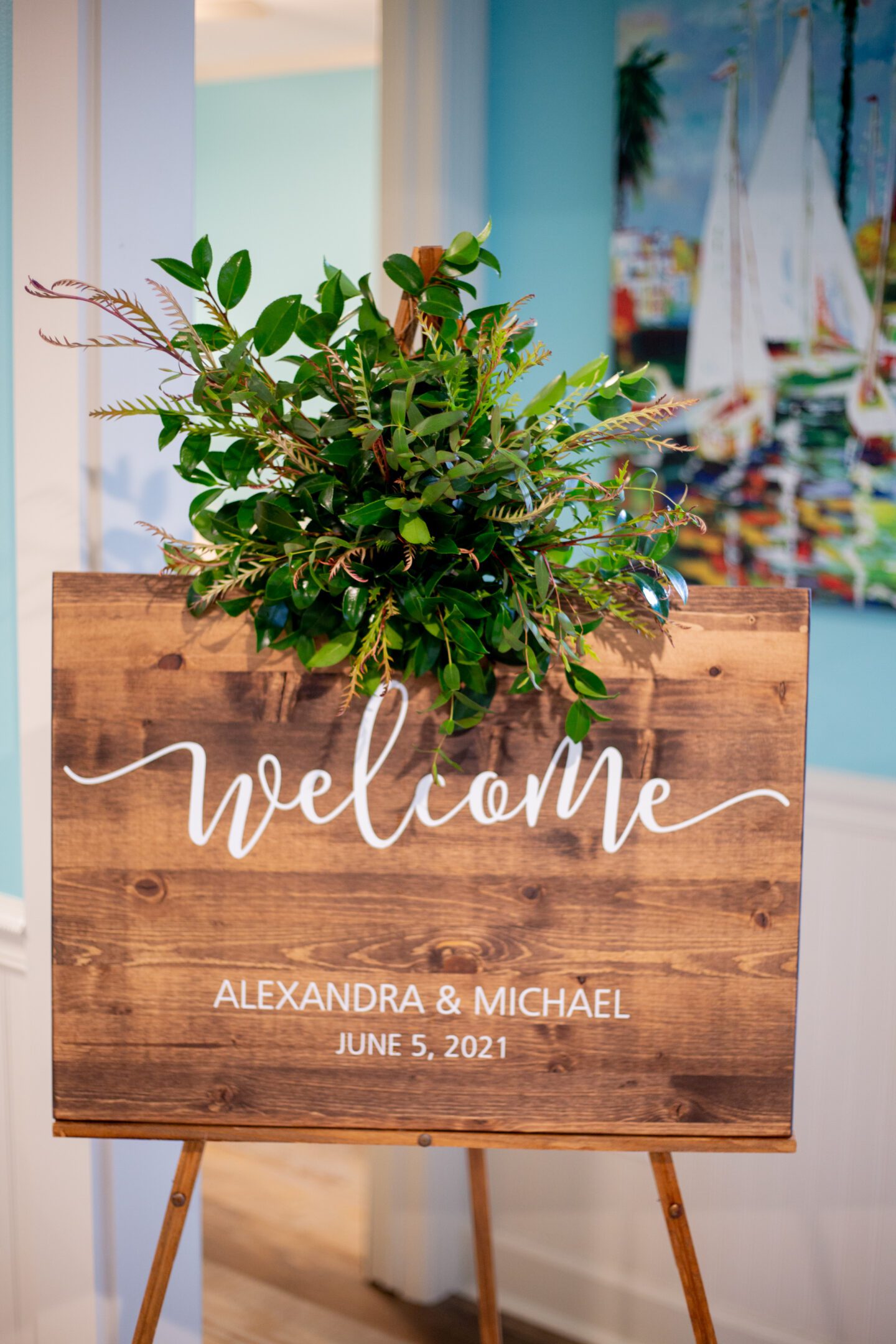 Since we were planning on a mostly outdoors event, we were praying for no rain! On the day of the party, the forecast called for potential thunderstorms. As the day progressed, it stayed sunny, so we were hopeful the rain would hold off! However, as we all were heading to meet at the venue to begin setting up, a torrential thunderstorm came through, and it ended up storming for about two hours. We were so worried that our party would need to be cancelled, but everyone, including each of our families and our wonderful caterer – Inlet Affairs – pulled together to come up with a backup plan to make our catering and bar set-up work indoors! It was a team effort and they pulled it off without a hitch. We have used Inlet Affairs for many occasions in the past, and Kristin and her team are truly excellent to work with.
Instead of setting up our food station outdoors as originally planned, it was set up inside the cottage. A make-shift bar inside the cottage 'mud-room' was also created, and it offered service to guests from both the inside of the cottage and from the outside – genius! The cottage has a big front porch with rocking chairs, which is where Timmy, our guitarist set up for the night.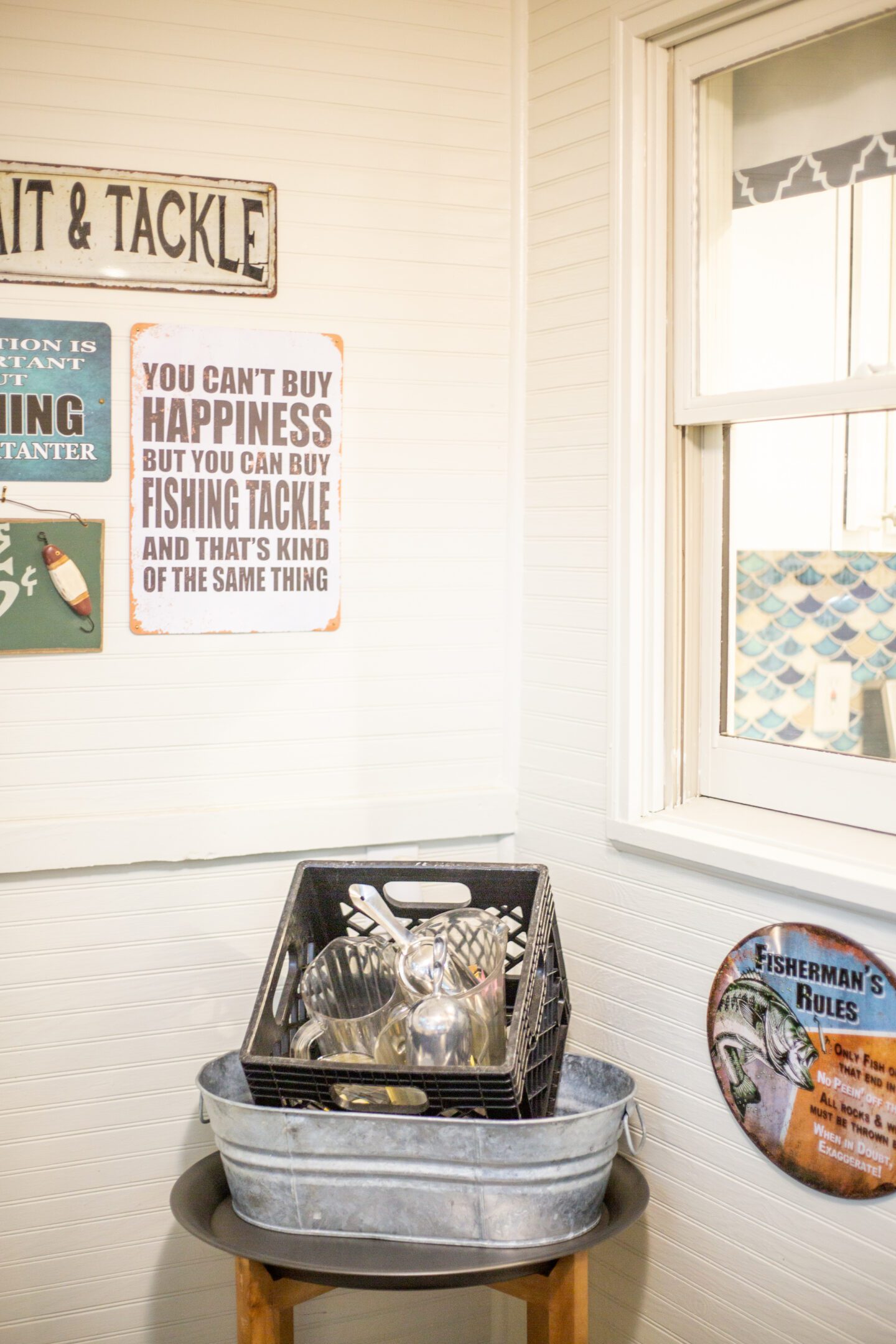 About an hour into the event, the rain finally let up and our guests were able to head outside to really enjoy the beautiful space. Timmy Pierce, our guitarist, had everyone singing and dancing late into the evening!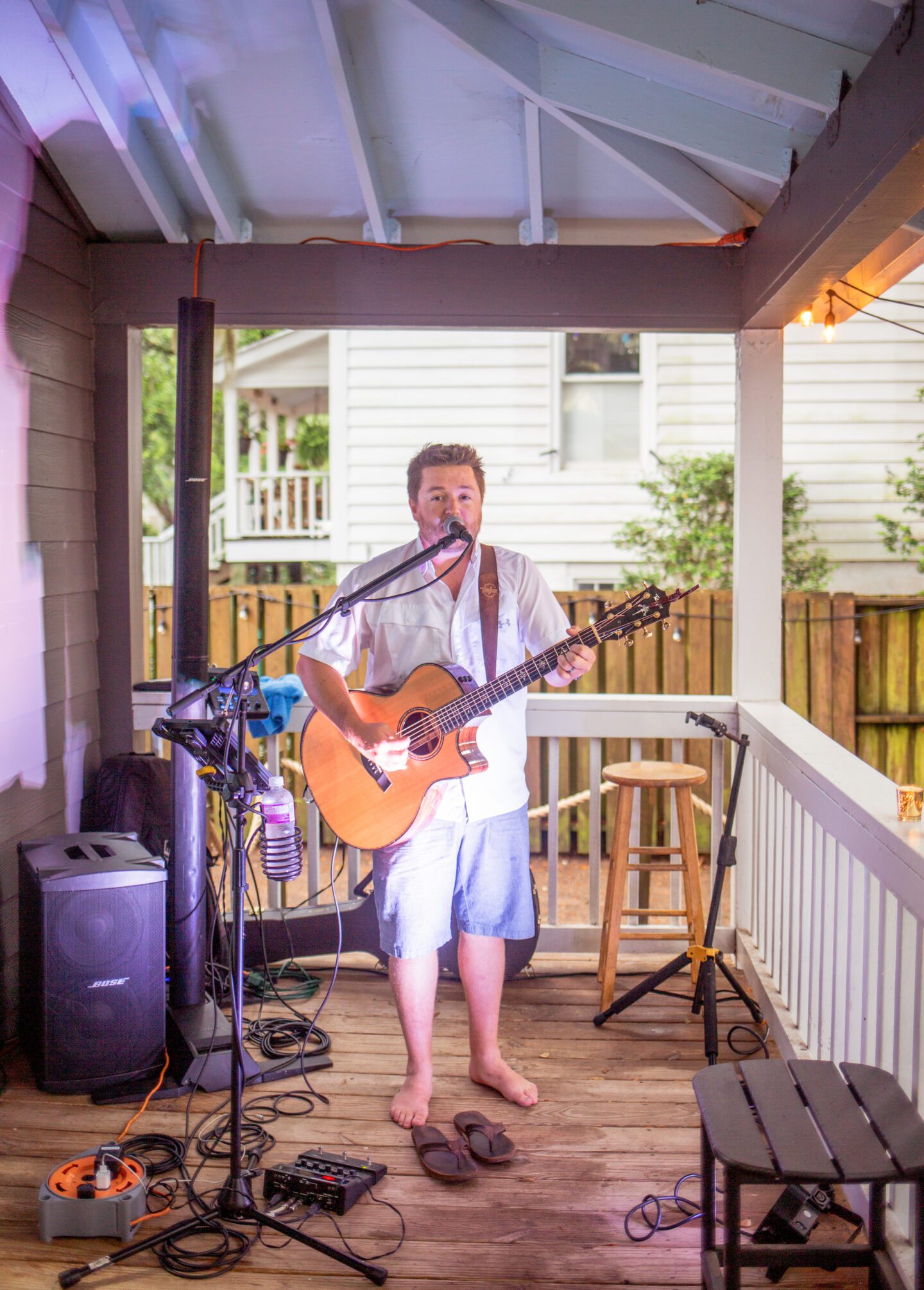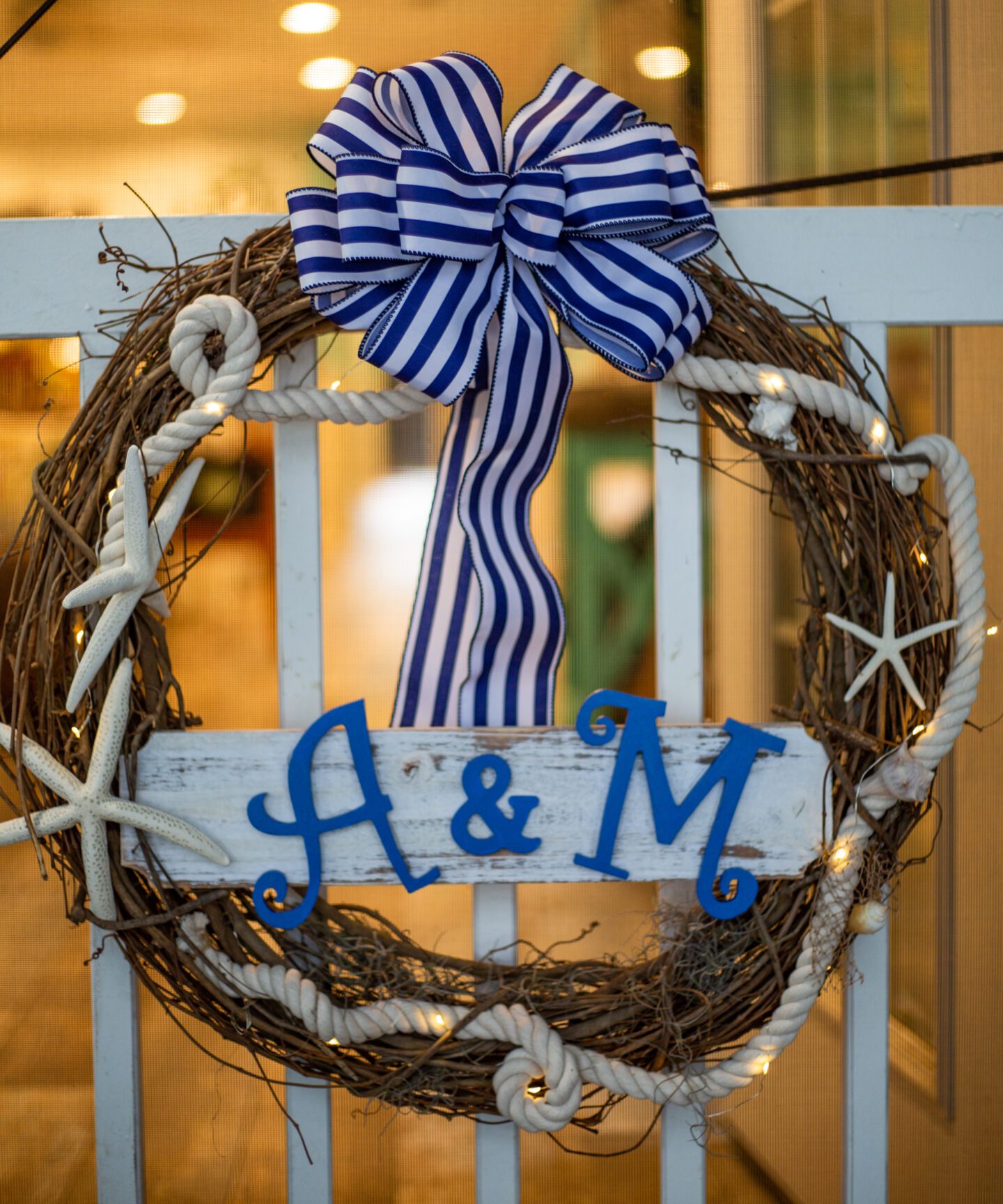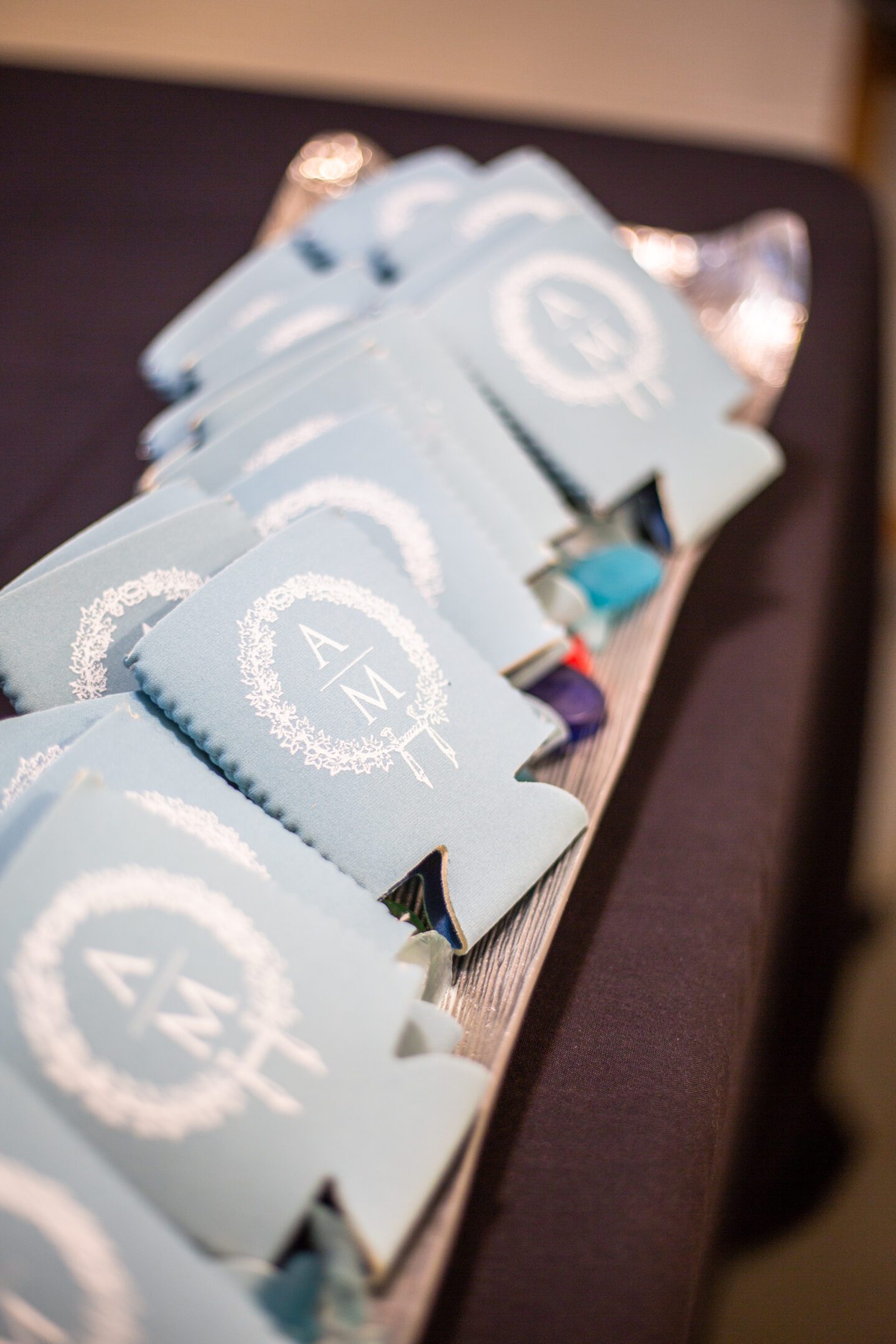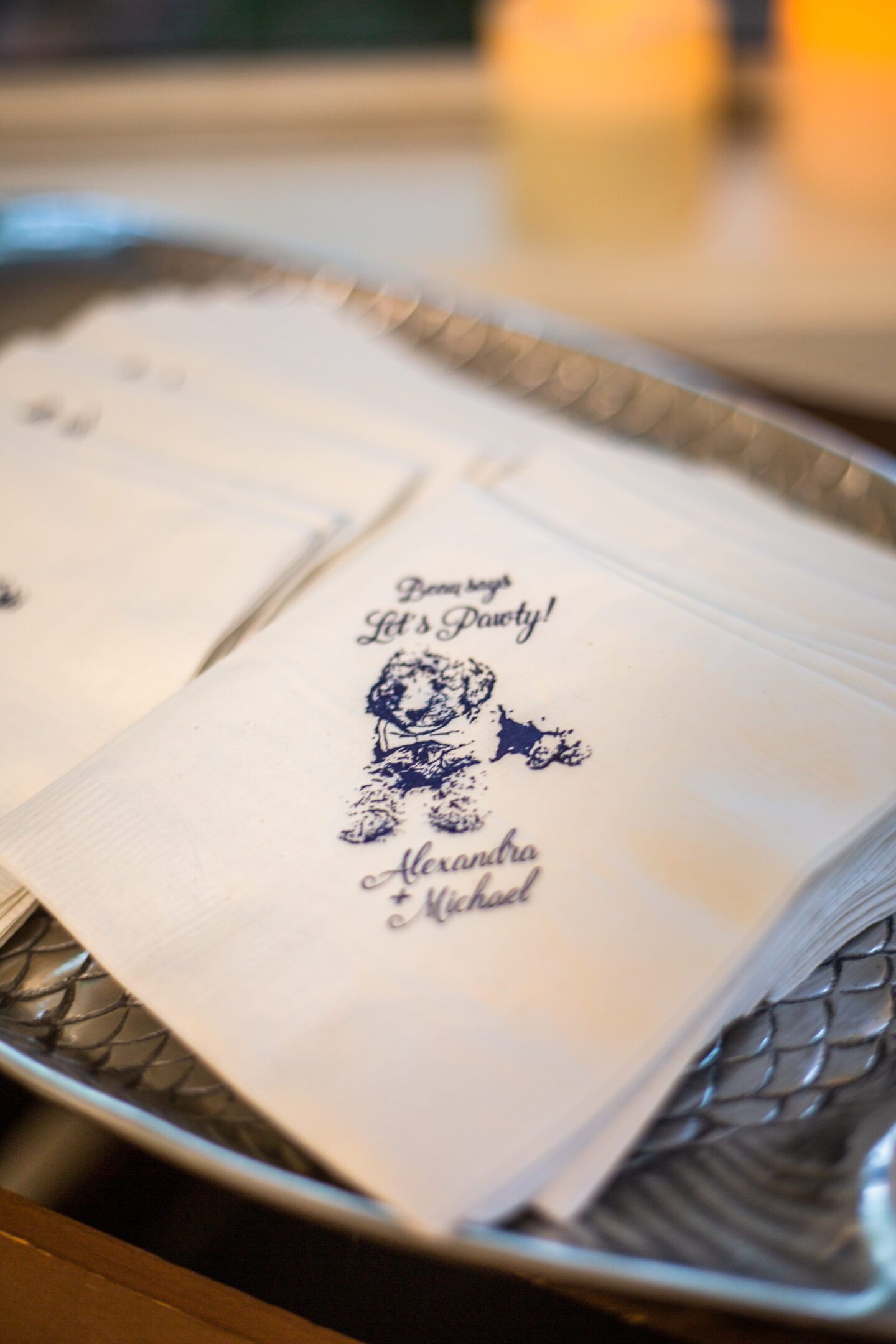 I had so much fun helping Michael with the details for the event, like the koozies from Surcie (they have so many fun party favors that you can customize for any special occasion) and cocktail napkins, which we had personalized with a rendering of Beau!
Greenskeeper Florist did all of our wedding florals, and they also provided the flowers for our Welcome Party, like these beautiful dahlias, and the hydrangea arrangements for each table. Denise at Greenskeeper is amazing to work with – highly recommend her if you're looking for a florist in the Murrells Inlet/Pawleys/Myrtle Beach area!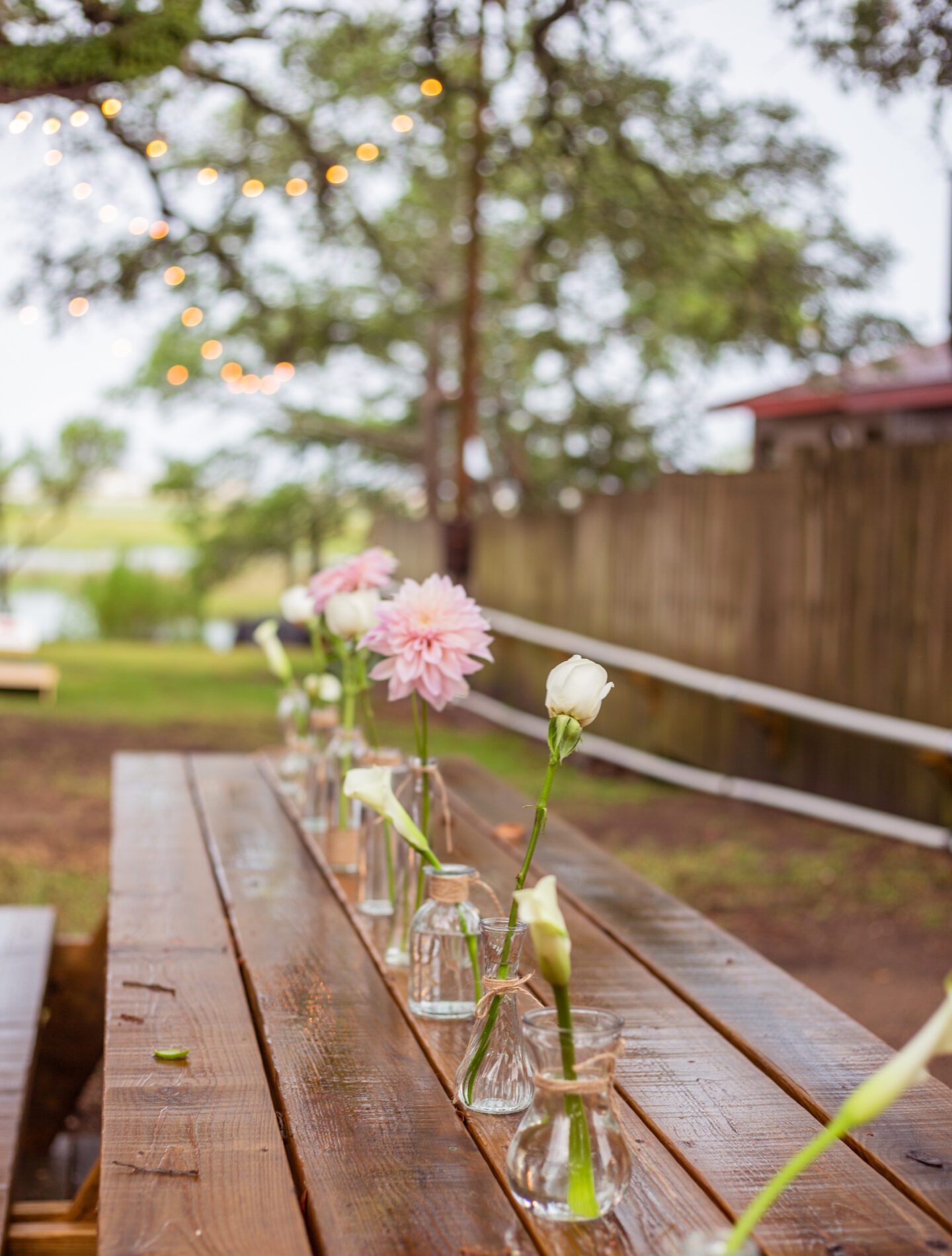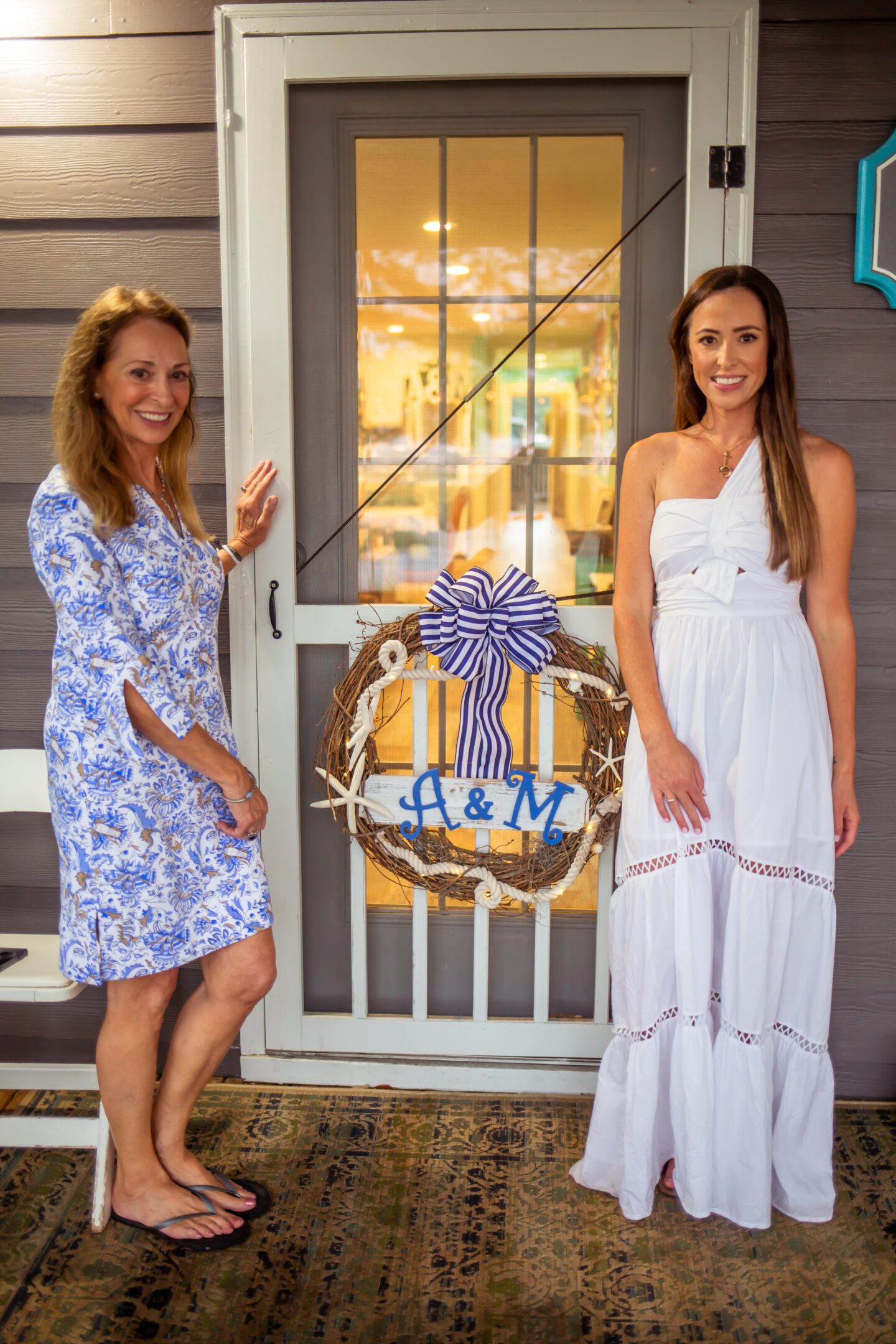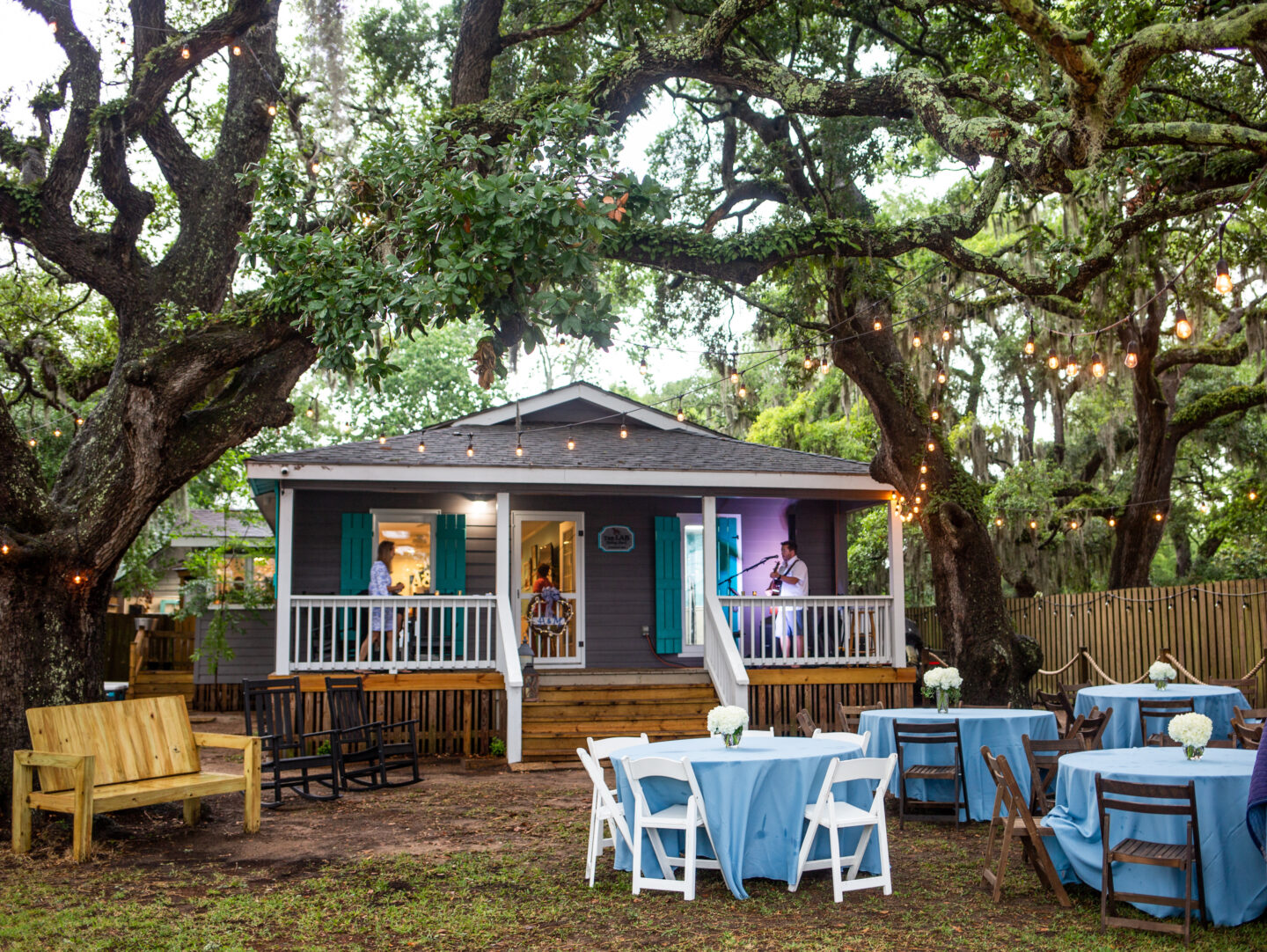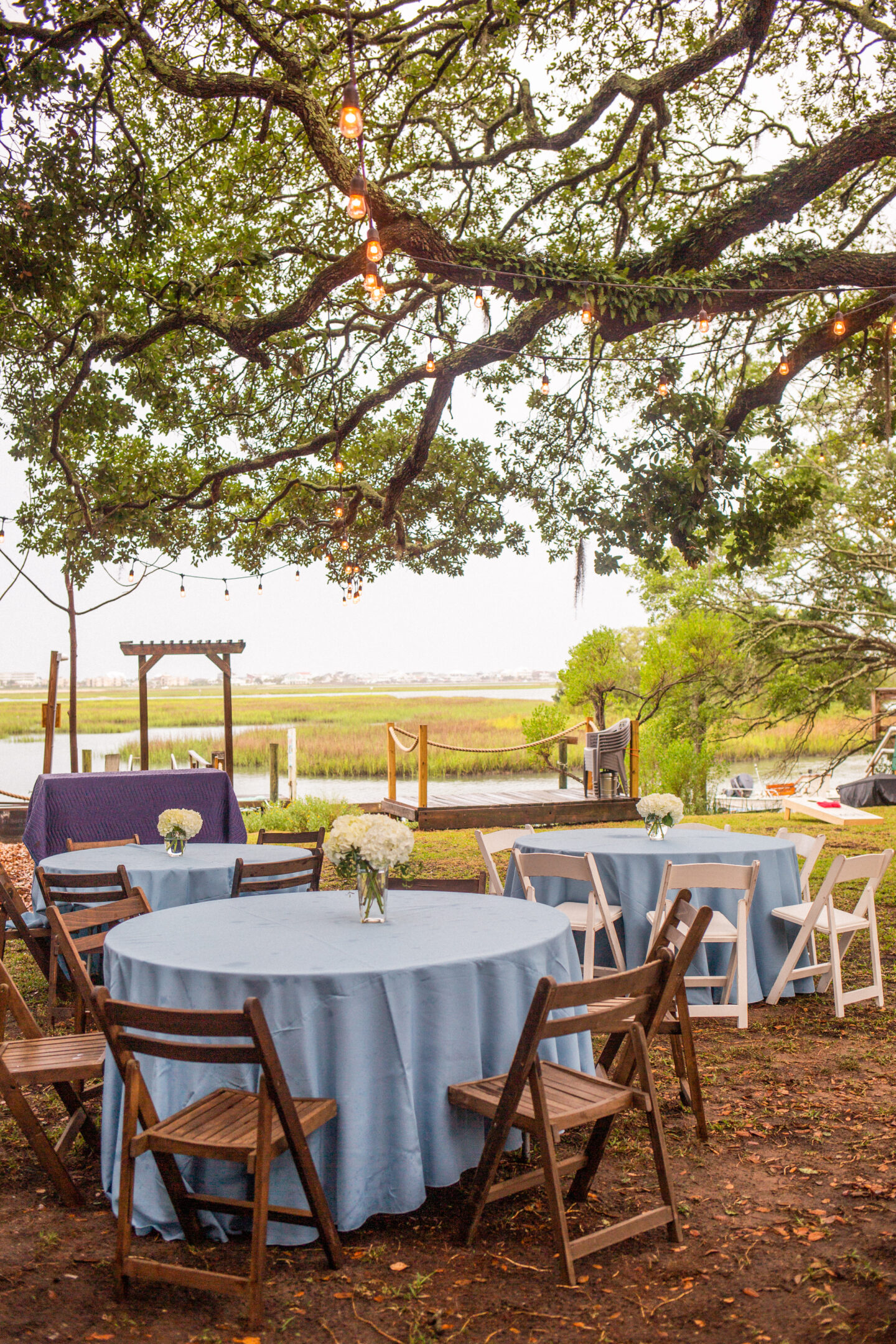 It was truly such a wonderful and fun evening, and I actually think the storm made it even more memorable for everyone! It was the perfect pre-wedding celebration, and I love looking back on these photos!
If you're looking for event venues (or vacation rentals!) in the Murrells Inlet area, I highly recommend checking out the Murrells Inlet Fishing Lodge!
Thanks for reading,
-A