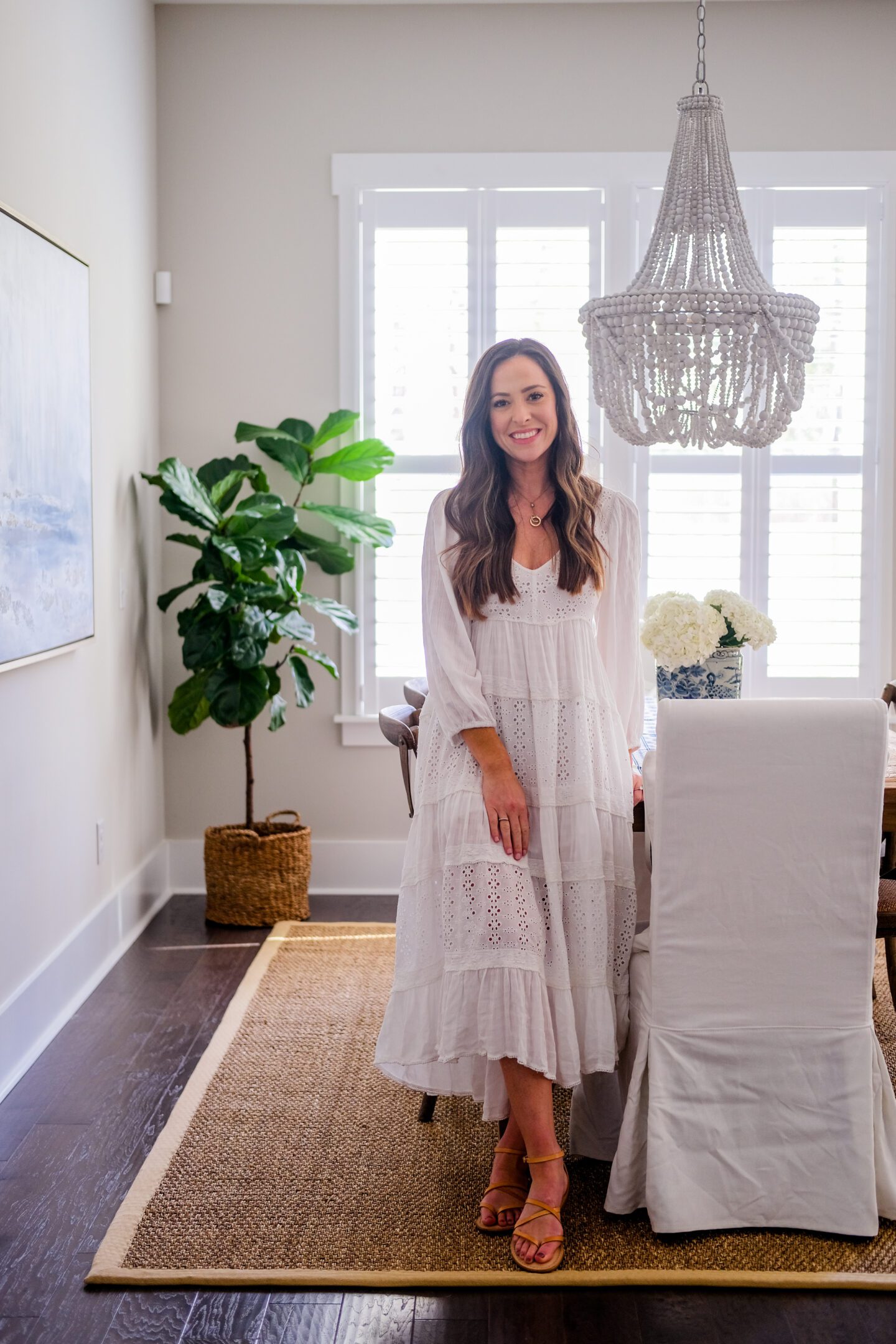 Does anyone else collect plants? I sure do… and I'm running out of room for new ones, but that's a post for a different day!
I've always loved flowers and gardening, but my love for plants really grew once I became a homeowner. Having plants around the home aren't just for looks, they are also known to have many benefits, including helping to boost moods, reduce stress, and purify the air. No wonder it's easy to get addicted to them!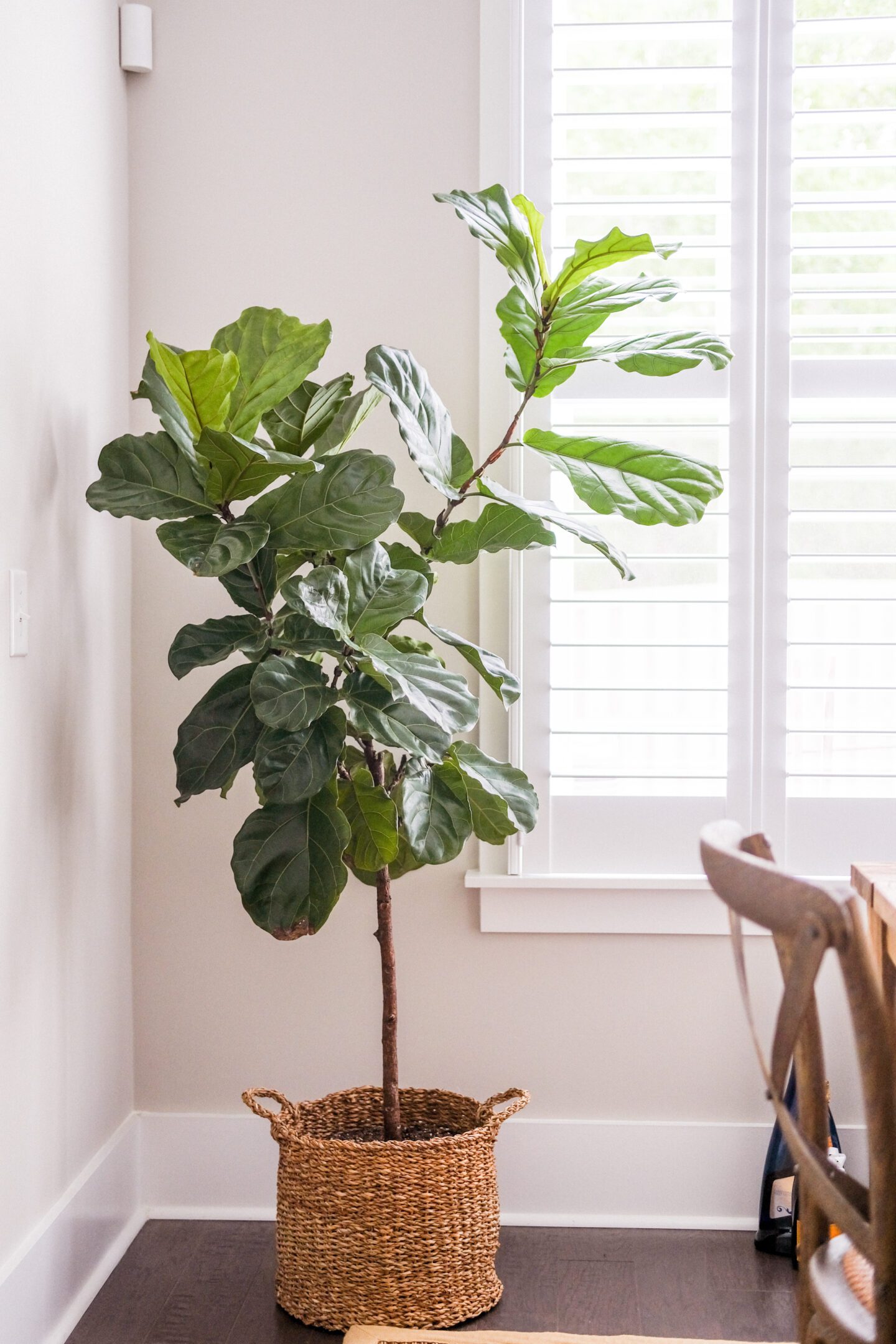 My favorite plants inside my home are my fiddle leaf fig trees. Prior to moving into my home, I had fiddle leaf fig plants in past apartments, but I never seemed to be able to keep them alive. Flash forward to a year ago, I made a trip to Abide-a-While – my favorite garden store in Charleston – and purchased a beautiful fiddle leaf fig tree at their car-side service (they weren't allowing shoppers indoors due to Covid at that time). I placed this one in my dining room, and it has been with us ever since, and growing like crazy!
Since then, I have added two more fiddle trees in my home – one in my guest room, which may be my favorite one yet, and then another in my living room. I love the look of these trees and their beautiful green leaves! I keep mine in baskets.. more on that below!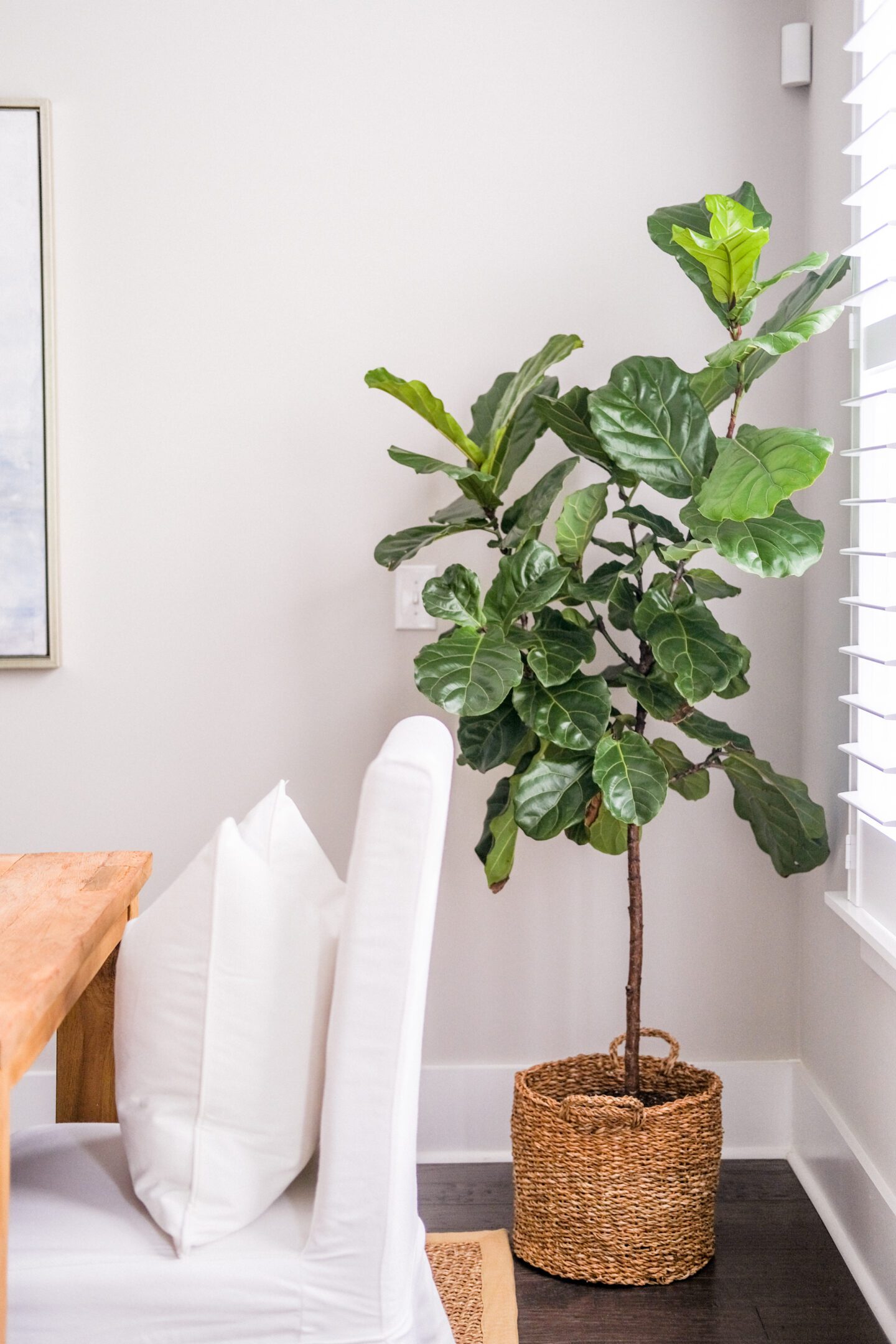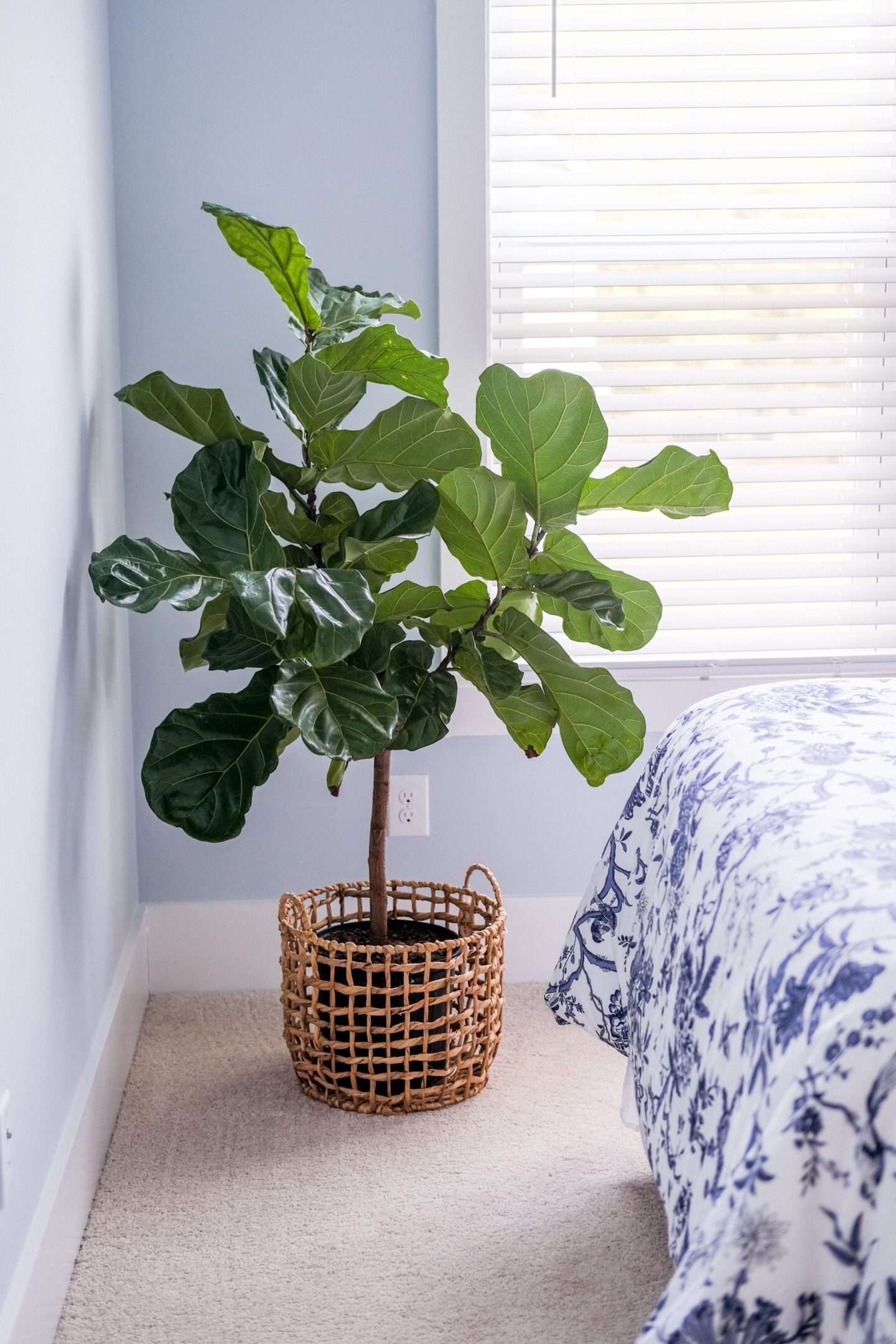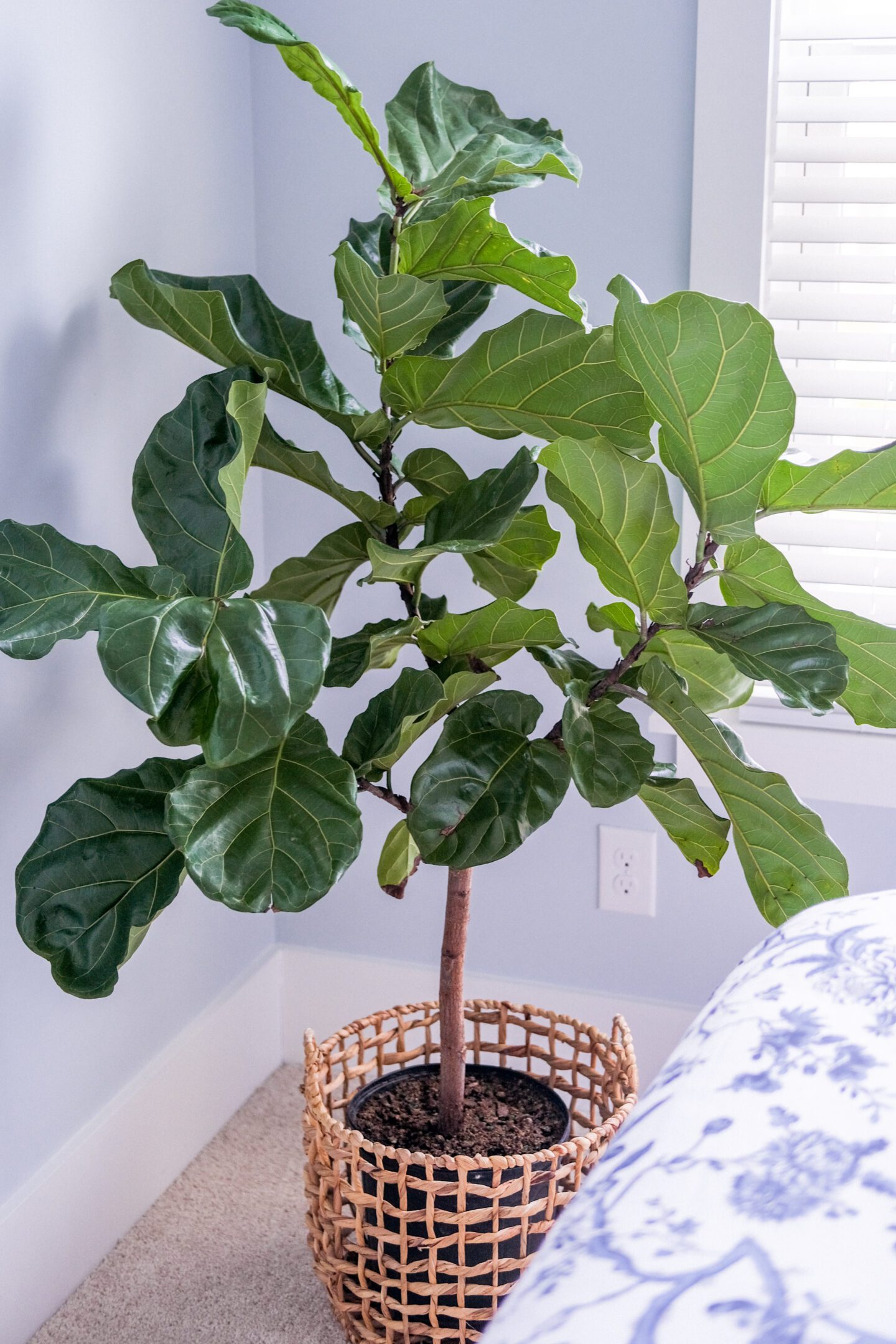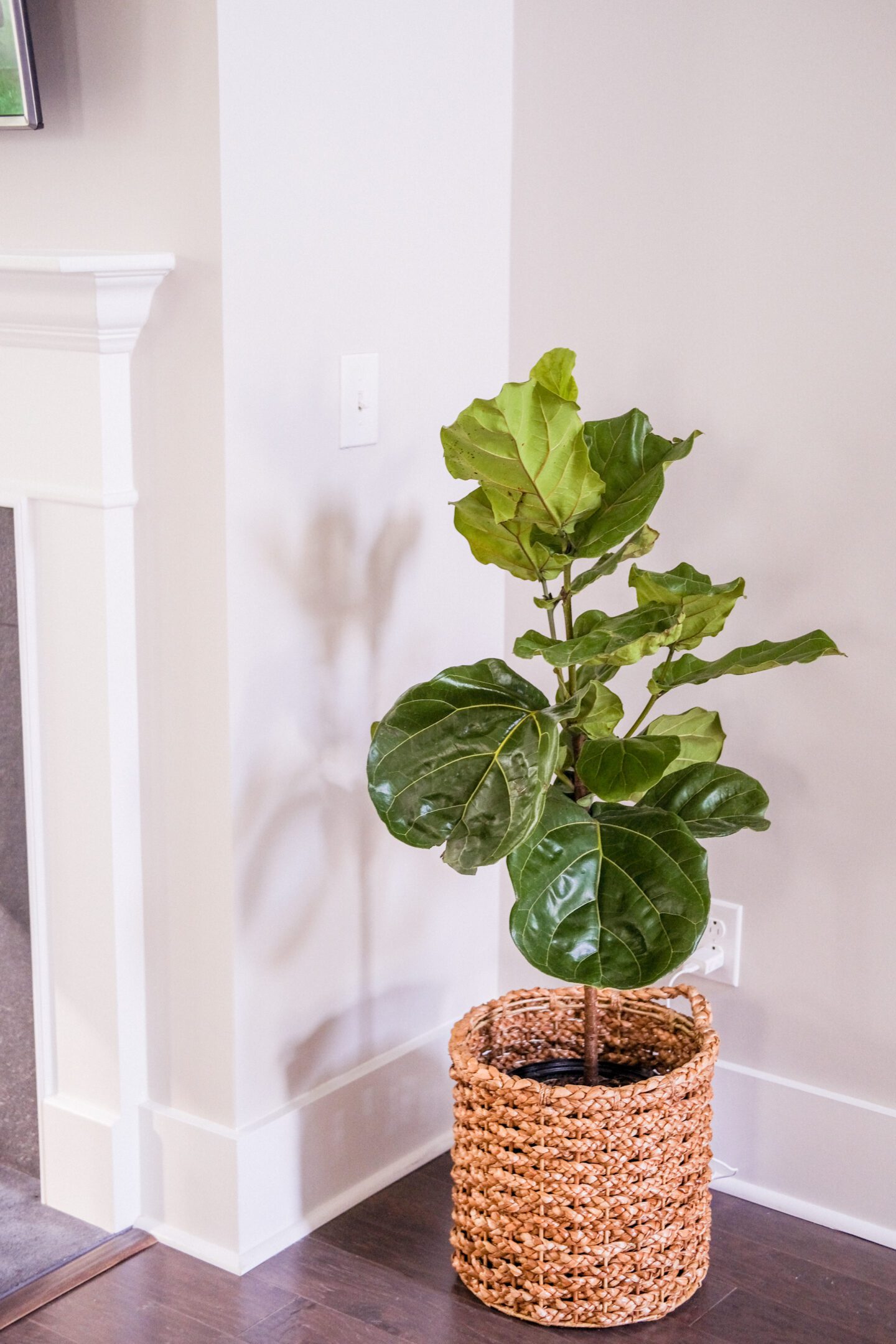 Fiddle leaf figs are notoriously hard to care for – you want to be careful not to overwater or underwater them, and they require just the right amount of natural light. While I am no plant expert, I thought I would put together what I have found works for me in caring for these beautiful plants! Here are my best tips for taking care of fiddle leaf fig trees:
---
Fiddle leaf figs love bright, filtered light. Place them in a sunny window and they will thrive!
Determine a watering schedule for your fiddle tree. This will be based off the size of your tree. Learn when your fiddle leaf fig is ready for watering by observing when the top 2″ of soil has dried out, as that's typically when it's time to water them. Since fiddle leaf figs love consistent watering, use this as a guide to set a 'schedule'. I actually set a reminder on my phone to water every Tuesday morning! All of mine are in 10″ diameter planters, and I have found that giving them 4 cups of water every week has kept mine thriving. For watering, I place mine in the sink (or bathtub depending on where they are in the home) and let the water drain out of them for an hour or so after watering before placing them back into their baskets.
Fiddle leaf fig trees are sensitive to temperature swings and air drafts. Be careful not to place them near a drafty AC vent. If it's unavoidable, consider closing the vent in this space (I had to do this in my dining room). I also try to keep the temperature in my home consistent.
Occasionally, you will want to take a damp paper towel to wipe off the leaves, as they can collect dust! This keeps their leaves shiny, and also helps the health of the plant, as they use their leaves to 'breath'!
Keep your fiddle leaf fig trees in the plastic planter they come in from the garden store, and then you can just place them in a basket or decorative planter! This makes it so much easier to water them. I also recommend placing a plastic saucer underneath the planter (inside of the basket) which helps to protect the basket and your floors should any water still be draining.
Speaking of baskets, here are some of my favorite ones!
I hope these tips are helpful! Thanks for stopping by!
-A